---
December 2 - 10, 2018 [5779]
Named for the
Hebrew word for "dedication," Chanukah commemorates the Maccabees' defeat of the Syrians, which led to liberation of the Jews and the rededication of the Temple in Jerusalem in 165 B.C.E. Chanukah also is known as the "Festival of Lights" because of the custom of lighting bright lights in celebration for eight days. Today, this is done most commonly by lighting candles in the nine-branched Chanukah menorah (
chanukiyah
).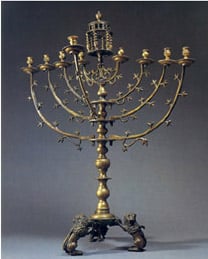 Learn more »
Despite current belief, the eight-day
festival was modeled after the eight-day celebrations for other holidays. The story of the "Chanukah miracle" (one day's worth of oil burning for eight days) was not part of either
I Maccabees
or
II Maccabees
, the books that record the historical data about Chanukah but weren't included in the final format of the Bible. It wasn't until 500 C.E. that the story was incorporated into the Talmud.
---
GET IN THE CHANUKAH SPIRIT...
View CHANUKAH AT HOME, our guide to celebrating »
Listen to and learn the blessings:
Listen to the following selections:
Back to Holy Days & Festivals