---
September 23 - October 1, 2018 [5779]
Sukkot traces its roots to the many agricultural ceremonies enacted by the ancient Hebrews, becoming a festival of thanks for a bountiful fall harvest and one of three "pilgrimage festivals" during which a portion of the first fruits were brought to the Temple in Jerusalem.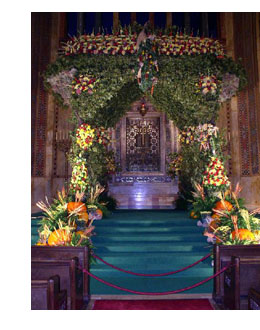 Over the years, Sukkot was
transformed by the Torah into a
festival that celebrates and commemorates the protection afforded the Israelites throughout their wanderings in the wilderness, as referenced in Leviticus 23:42-43:
You shall dwell in booths seven days…
that your generations may know that
I made the Israelites dwell in booths,
when I brought them out of
the Land of Egypt.
Consequently, the major symbol of Sukkot is the
sukkah
, from the Hebrew word for "hut" or "booth."
Other symbols of the festival include the
lulav
(consisting of two willow branches, a single palm branch and three myrtle branches) and the
etrog
(Hebrew for "citron"), a fruit similar in color and shape to a lemon. The
lulav
and
etrog
are used together in a prayer ritual for Sukkot.
Learn more »
---
View our
Family Activities
for Sukkot »
View Rabbi Davidson's brief
video greeting
for Sukkot »
Back to Holy Days & Festivals