---
September 1, 2018 [5778]
Coming from the Hebrew word for "forgiveness" and a liturgical poem whose subject is a plea for the forgiveness of sins, Selichot is a service of penitential prayers that are recited on all fast days, periods of special intercession and during the penitential season, which begins before Rosh Hashanah and concludes with Yom Kippur.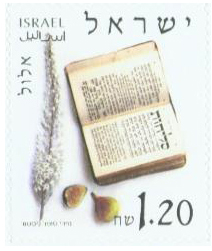 The Sephardic community recites the
Selichot
for the 40 days from the first of Elul (the month before Tishrei, the beginning of the Jewish New Year) to the Day of Atonement. The Ashkenazic community, on the other hand, begins reciting the prayers on the Sunday before Rosh Hashanah.
In America, a late Saturday evening service has become the customary practice. The liturgy and music of the
Selichot
service are intended to instill a mood of solemnity that serves as a prelude to the sacred themes of the High Holy Day season.
Emanu-El Selichot Service:
Saturday, September 1, 2017
8 PM • Beth-El Chapel
(No tickets required)
Download our
service program »
A reception will follow.
Originally, the
Selichot
service consisted of several groups of biblical verses, each culminating in the recitation of the Lord's 13 attributes enumerated in Exodus 34:6. In Geonic times (the sixth to the 12th century), the service was expanded and enriched with the inclusion of the penitential prayers written by liturgical poets.
Back to Holy Days & Festivals