---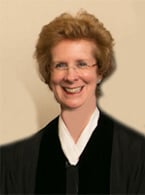 Cantor Lori A. Corrsin
On November 16, 2010,
I was privileged to be part of a historic Jewish concert,
To God's Ears
, at the glorious Basilica Santa Maria degli Angeli e dei Martiri in Rome. The ancient basilica, designed by Michelangelo, rang out with the lush sounds of beautiful Jewish vocal music. The repertoire of prayer and biblical text settings covered centuries, ranging from
Adon Olam
by 17th century Italian-Jewish composer Salamone Rossi to
Ma Ashiv Adonai
, using both Hebrew and Latin texts of Psalm 116, written by New York Cantor Erik Contzius especially for this event. This was a first: Jewish music sung by Jewish clergy for Vatican officials in a Roman church.
In an effort to bridge the differences between Catholics and Jews, 20 Reform cantors from across the U.S. were chosen last summer by the American Conference of Cantors to form a special cantorial ensemble. We learned the music on our own, then went into intensive rehearsal together in Rome. All of us sang the concert from our hearts, interpreting the prayers and Torah texts passionately and sincerely. Reaching across religious and cultural divides, through the power of the Jewish sacred music echoing through the amazing space, Jewish and Catholic souls touched each other.
This concert, which was part of the Second Conference on Catholic-Jewish Relations, is also the centerpiece of an upcoming documentary film,
To God's Ears
. It chronicles the changing dynamics of Jewish-Catholic relations over the past 40 years, the people involved in the efforts to maintain relationships, and the use of music to bring sympathy and understanding between different peoples.
The Jewish-Catholic relationship has an unhappy history with long-standing wounds, but this Rome conference demonstrated a sincere outreach from both sides. The New York-based Interreligious Information Center coordinated with Cardinal William Keeler, the emeritus archbishop of Baltimore and the basilica's cardinal priest, to organize four days of religious dialogue and meetings based on using music as a unifying force.
I came to Rome full of excitement and anticipation, and although the Pope could not be with us, nor could Cardinal Keeler because of illness, I left knowing that the cantorial ensemble had created an extraordinary, rich celebration of our Jewish musical heritage.
U.S. Ambassador to the Vatican Miguel Humberto Diaz called the concert a wonderful opportunity. "Any kind of art, especially music, is a way to bring people together," he said.
It was an honor to be part of this groundbreaking, well-received event. I hope that many more voices will sing together, building a friendship between Catholics and Jews.
Following is an excerpt from
Earth Song
by Frank Ticheli, which will be sung on Shabbat Shira, as part of this year's
Sermon in Song
:
Sing, Be, Live, See…

O war and power,
You blind and blur.
The torn heart
cries out in pain.

But music and singing
Have been my refuge,
And music and singing
Shall be my light.

A light of song
Shining strong: Alleluia!
Through darkness, pain and strife,
I'll Sing, Be, Live, See…

Peace.
Songs can inspire, uplift and enlighten, and prayers, expressed in song, can touch us deeply. Whether heard in Rome or in our own Sanctuary, the songs of our heritage can move us, transform us, and connect us together through the beauty and universality of music.
Back to Music