---
Temple Emanu-El is pleased to be able to offer our magnificent spaces to temple members, not only for religious services and life-cycle events but also for the celebrations associated with them.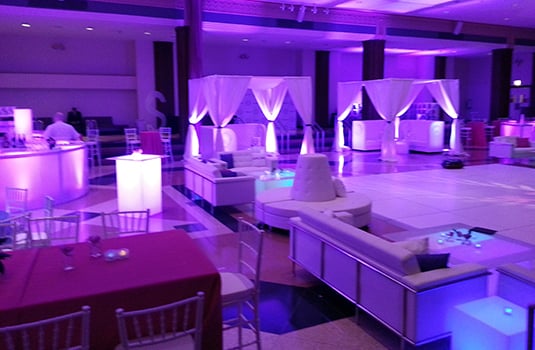 Hosting a grand celebration after a life-cycle service,
an intimate luncheon or a brief Kiddush?
Temple members have a variety of magnificent spaces available to them for private events. Planning your party at Emanu-El rather than at an outside venue can make a celebration far less stressful for you and your guests. We have worked hand-in-hand with some of the foremost caterers and party planners in New York, and we offer rooms of different sizes to suit your particular requirements.
To reserve an event date or to obtain detailed information about hours and regulations for catered events at Temple Emanu-El, please contact our
Events Coordinator
.
FEES:
Room fees are paid directly to the temple and are dependent on the space you choose. Catering fees are paid to your caterer.
►
Isaac Mayer Wise Hall
(Lower Level, One East 65th Street)
Capacity: 350 seated, 300 with dance space
Fee: $6,000
►
Gene L. Blumenthal Hall
(Lower Level, 10 East 66th Street)
Capacity: 200 seated, 150 with dance space
Fee: $4,000
►
Leventritt Room
(Fourth Floor, One East 65th Street)
Capacity: 100 seated, 125 cocktails
Fee: $3,000
►
Lounge
(Sixth Floor, One East 65th Street)
Capacity: 30
Fee: $1,500
►
Temple Lobby
(Fifth Avenue)*
Capacity: 150
Fee: $1,500
*As available
Kosher Policy:
Temple Emanu-El does not impose strict kosher regulations on catered events. What we routinely permit is "kosher-style" catering, which means that while some foods are not permitted — such as shellfish and pork products — dairy and meat may be served together.
Back to Ceremonies & Practices