---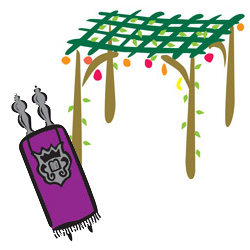 ACTIVITY 2:
HEBREW HOLIDAY VOCABULARY
Study as a family the meanings
of the following words.
Combination of palm, willow and myrtle we wave on Sukkot
Lulav
Citron
Etrog
The four species (etrog, palm, willow and myrtle)
Arbaah
Minim
Booth, booths and the name of the holiday
Sukkah,
Sukkot
Flag
Degel
Jewish star; literally "Shield of David"
Magen
David

Circular procession (processions) with the Torah
Hakafah,
Hakafot
The holiday of Simchat Torah ("Rejoicing with the Torah") is celebrated on the eighth day after Sukkot begins and serves as a
post-biblical festival created to
honor the Torah.
Following are two activities
borrowed from
The Jewish Parent Page
, a publication developed by the Union for Reform Judaism's Department of Lifelong Learning and written by Yonni Limmer Wattenmaker, RJE.
ACTIVITY 1: RECIPE CORNER
In celebration of Simchat Torah,
here are two simple cooking projects to undertake with kids.
QUICK-AND-EASY
TORAH SUGAR COOKIES
Preheat your oven to 350 degrees Fahrenheit for at least ½ hour. Open a roll of ready-made sugar cookie dough (found in the refrigerator section of most supermarkets) that has been chilled for 1 to 2 hours. Once chilled, roll dough to desired thickness and cut into shapes, such as a Torah or the letters of the
alef-bet
…you decide! Use colored sprinkles, sugar crystals or even chocolate chips to decorate the shapes, making sure not to press the toppings down too much, so the cookies don't burn. You also may choose to leave them plain and decorate with icing when they have cooled after baking. Bake cookies on an ungreased baking sheet at 350 degrees Fahrenheit for 8 to 10 minutes or until just beginning to turn brown around the edges.
CARAMEL APPLES
In some synagogues, children carry apples during a
hakafah
(a circular procession with the Torah) on the stick of their Simchat Torah flag. Here's an easy recipe for a delicious Simchat Torah snack made with apples…
Many food stores carry ready-made caramel wraps for apples, complete with sticks for easy handling. Just pierce the center of the apple with the stick, wrap the fruit in caramel, and then dip your creation in sprinkles, nuts, mini M&Ms or even mini marshmallows. Enjoy!
Back to Sh'mini Atzeret/Simchat Torah