---
It may seem obvious what information should be included on your
wedding invitation, but here are some guidelines to help you with the
specifics of spelling and address.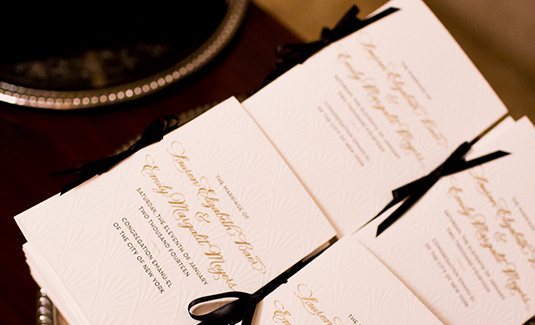 Photo: Roey Yohai Photography
Before you print your invitation, please check the following:
NAME OF THE TEMPLE
— Please list the location of the ceremony as either
Temple Emanu-El
or
Congregation Emanu-El of the City of New York
.
If you choose the shorter name, make sure to include "New York City" or "Manhattan"
after Temple Emanu-El. (There are two dozen synagogues of the same name in the
tri-state area, and you'll want to help out-of-town guests reach the proper destination.)
Please be sure to spell "Emanu-El" as it appears above.
STREET ADDRESS
— Please specify
Fifth Avenue and Sixty-fifth Street
or
Fifth Avenue at Sixty-fifth Street
, spelled out as indicated.
You do not need to specify Fifth Avenue Sanctuary or Beth-El Chapel, as your guests will use the same entrance no matter which you choose. To make sure guests enter in the right place, please do NOT list our other address, One East 65th Street.
We would appreciate seeing the proof of your invitation before it is printed.
This will help ensure that all are in agreement over details of time and place.
Back to Weddings