---
In addition to personal flowers, you may wish to have other floral decorations.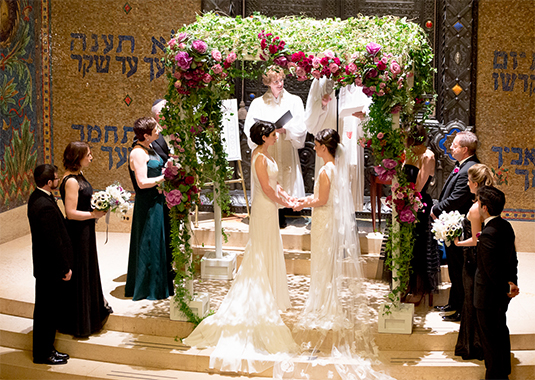 Photo: Roey Yohai Photography
Your florist may suggest various bouquets, arrangements or pew markers; it is important that you meet with the temple staff before making final decisions about these decorations.
We would be pleased to meet with you and your florist so that he or she may get a better idea of the proportions and design of our sanctuaries.
For your safety and that of your guests, and to protect fragile surfaces within the temple, please note the following:
Ribbon, string or rubber bands may be used to attach floral decorations to the pews. Nothing may be attached to walls or columns.
Flower petals, confetti, rice, candy, birdseed, bubbles or other substances may not be thrown in the sanctuaries or in front of the building.
Candles and aisle runners are not permitted.
At least 14 days before the wedding, your florist will be required to provide certificates to the Temple Office with evidence of insurance coverage for workers' compensation, public liability and property damage.
While chuppahs are not required, should you decide to use one, please consult with us before placing your order with a florist. It is a good idea to consider the size of the chuppah when you look at the Fifth Avenue Sanctuary. In the Beth-El Chapel, the configuration of the bimah sometimes makes it difficult to find a chuppah the fits. We will be glad to provide you with the name and address of a place where you may find a chuppah custom-designed for the space.
Back to Weddings