---
More than 25 projects have been organized for this year's Mitzvah Day.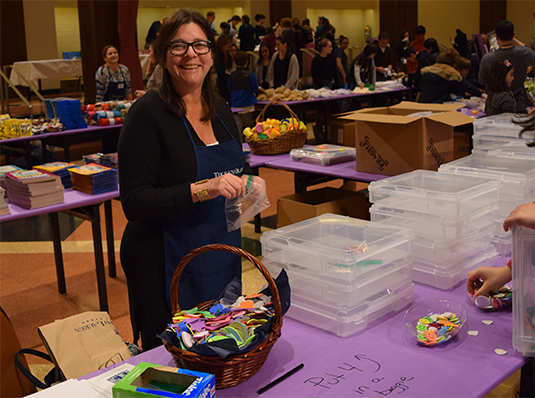 Help is needed in assembling more than 2,000 packages
for some of the most vulnerable populations in New York City.
Following is a list of some of the activities* in which temple members
may choose to participate:

Bagel and Bingo Brunch — Serve brunch to seniors from the Carter Burden Center for the Aging and lead them in a rousing game of Bingo!
Birthday Boxes — Create birthday gift boxes for DOROT seniors, many of whom live alone and don't have family to celebrate with them.
Chemo Angels — Assemble comfort totes for women undergoing chemotherapy at the Evelyn H. Lauder Breast Center at Memorial Sloan Kettering Cancer Center.
Fun Kits — Assemble packages for use by children undergoing treatment at Children's Hospital at Montefiore (CHAM).
Help Feed the Hungry — Make sandwiches and prepare 200 meal bags for families at Jan Hus Neighborhood House and Bowery Mission.
Milk and Cookies — Bake fresh cookies and package with organic milk boxes for children at the New York Center for Children.
Mommy & Me — Pack diaper bags filled with baby essentials for new moms. These bags will be given to recipients at Project Sunshine, which provides free educational, recreational and social programs to children and families living with medical challenges.
Welcome Packages — Assemble tote bags for young girls at the Good Shepherd residence who are undergoing rapid-crisis intervention, these girls arrive with little to any possessions as they have been removed from their homes on very short notice.
Let's Warm Up -- Package warm weather items for those individuals who are without homes and need to stay warm during the winter months.. The Jan Hus Urban Outreach Center extends the breadth of social services necessary to support the full worth and dignity of all people. Taken together, they are striving for justice, transforming lives, and providing a space for the neighborhood to thrive.
* Projects may be subject to change. List may be updated to include more activities.
Back to Mitzvah Day