---
Mitzvah Day was started in 2005 as a way to increase awareness and create a greater sense of community among temple members while helping others.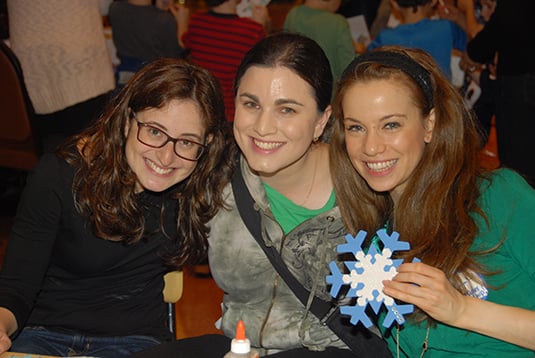 MITZVAH DAY 2018 was held on Sunday, December 9, 2018.
Temple members of all ages were invited to join us at 10:30 AM (sharp!) in I.M. Wise Hall
(enter at One East 65th Street), where we had:
• A light breakfast
• Congregational prayer
• More than 20 projects where we assembled thousands of packages
for some of the most vulnerable populations in New York City
View a short list of projects from Mitzvah Day 2018 »
---
Mitzvah Day 2018: A Success

Sunday, December 9, 2018:

A HUGE THANK YOU TO EVERYONE! Today as we all came together as a Temple community volunteering side by side to help those who are so less fortunate than ourselves we accomplished an amazing Mitzvah. I.M. Wise Hall looked abundantly full of items for over 2,300 recipients. Just imagine, in an hour and a half over 23,000 items left the building.. This is a huge undertaking and without your support, guidance and commitment this Mitzvah would not be possible. So many smiling faces as packages were filled, brunch was enjoyed in I.M. Wise Hall, 55 guests dined at the Bagel and Bingo Brunch in room 402 and members of Temple Emanu-El's Stitch'n Time knitters enjoyed a brunch as well. A huge thank you to Phyllis and Norden Hahn and the volunteers who prepared the food for all to enjoy. One Hundred and seventeen volunteers were in attendance today!

Without the support of Temple Emanu-El's Philanthropic Fund this Mitzvah would not be a possibility. Temple Emanu-El is able to touch the lives of so many people and although it is a small portion of what they may need, through our efforts we can place a smile on their faces for a few moments in time! All the items designated for these packages have been requested. The various organizations we serve have been carefully chosen and I have personally met with all the organizations. I am including a list of the organizations as well as the number of packages that will be distributed tomorrow.



MITZVAH PROJECTS & LEADERS 2018

48 BIRTHDAY BOXES for women

24 BIRTHDAY BOXES for men — Shelly Levine... Phyllis Silver — DOROT

72 ACTIVITY BOXES — Young Members-Lauren Kaufman, Max DeLott — CHAM/ Children's Hospital at Montefiore

48 MOMMY & ME — Katherine Ames — Project Sunshine

72 HEART TO HEART — Arlene Janover — Mount Sinai Pediatric Cardiology

72 CARE GIVER KITS — Beth Gershon — Mount Sinai Pediatric Cardiology

300 ESSENTIALS KITS — Carole Greenberg...Rebecca Weisberg..Neil Herbsman — Bowery Mission

96 LET'S WARM UP — Fran Urist...Robin Nelson — Jan Hus Outreach Program

96 HOLIDAY FUN — Kim Hartman — COAC/ Council on Adoptable Children

96 WELCOME PACKAGE — Carole Hess — Good Shepherd

200 HELP FEED THE HUNGRY — Miriam Reines...Gil Gold — Bowery Mission...Jan Hus Outreach Program

48 SPICE IT UP ACCESSORIES — Jennifer Kolb — DOROT HPP

300 SPICE IT UP CUPS — Jennifer Kolb — DOROT HPP

48 RELOCATION PACKAGES — Jodi Isman — DOROT HPP

96 CHEMO ANGELS — Susanne Fischer..Jill Cohen — Evelyn Lauder Breast Center

200 MILK & COOKIES — Jonathan & Shirley Slaff — NYCC/New York Center for Children.....Jan Hus Outreach Program

75 PROM SHOE WISHES — Eileen Melnicker — Prom Wishes/Project Prom

72 ACTIVITY TIME — Andrew & Jeremy Chait — Mount Sinai Hematology/ Oncology

72 KITCHEN START UP — Dana Covey — URI/ Urban Resource Institute

96 SENIOR LIVING KITS — Saviv — Selfhelp

150 COMFORT BAGS — Marilyn Ezzes, Lee Robbins — Children's Village

72 AFTER SCHOOL FUN TIME — Karel Greenberg — NYCC/New York Center for Children

I would also like to express my extreme thanks to Mark Heutlinger, Tony Shkreli, Jesus Toribio, Jason Spangler and the entire maintenance staff ,for without their constant willingness to help us every step of the way this Mitzvah would not be possible. I finally would like to thank Marlene Yokel and Lori Villi for their support, many hours of hard work, commitment and their friendship.

I want you all to know that from the bottom of my heart I am thankful to each and everyone of you for your devotion and dedication to helping serve those who are in need of our assistance.


In life, there are no sure bets, except that volunteers like you will rise to the occasion and make the world a better place.


With True Appreciation,

Susan, Lori & Marlene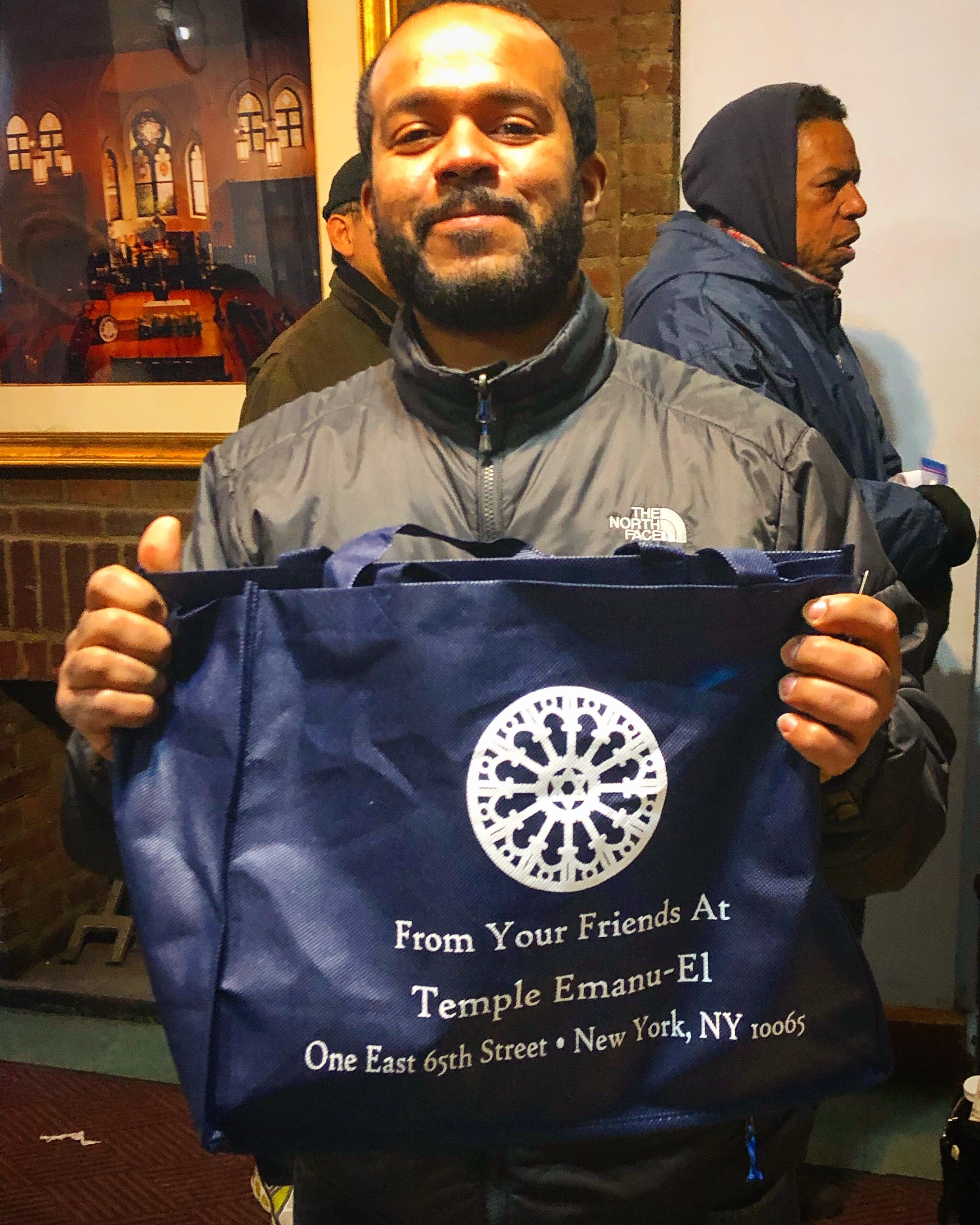 Tuesday, December 11, 2018:
Today as I was walking along First Avenue and 78th street and I passed a man pushing his cart and hanging off the back was a Temple Emanu-El bag. I stopped to ask him where he received the bag. He said he was at the Jan Hus Outreach Center and they were distributing them yesterday. We started to chat a bit and he told me he was so happy to receive all the wonderful items inside and then he proceeded to show me the gloves that he received in the package as he was wearing them. I must say I was a bit overwhelmed. This gentleman was so thankful to Temple Emanu-El for all the packages that he has received over the years. He also mentioned the delicious meal bag and fresh chocolate chip cookies and milk as well. He actually offered his help to us if we ever needed an extra volunteer. He explained to me that he has fallen on very hard times and can not seem to pull himself together. He grew up on Long Island, went to college and then life became too difficult for him. I wanted to share this experience with you as the Mitzvahs we accomplish really do make a small difference in the lives of those we touch.
Susan Kaufman
Tikkun Olam Commitee Chair
---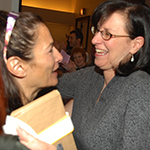 In 2014, Temple Emanu-El
celebrated its 10th Mitzvah Day.
As part of the 2014 program, it was announced
that the congregation had donated $25,000 to build
a school in Guatemala in honor of Rabbi Amy Ehrlich's
26 years of service to Temple Emanu-El. The project was kept secret from Rabbi Ehrlich until it was announced during Mitzvah Day.
View photos and a video
from this event »
We invite all Temple members to join our
efforts and to experience the feeling of gratification
that comes from helping others.
Back to Volunteering