---
The following email was received shortly after the start of Chanukah 5771
from a former Emanu-El Religious School student stationed in Afghanistan.
As Rabbi Posner said in his response, "May the Holy One always be a shield about you, protecting you from harm's way. [May] you and all those with you return to their homes, to rejoin the embrace of all who love you. Happy Chanukah and love from Temple Emanu-El."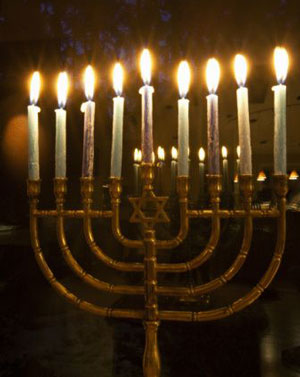 Dear Rabbi Posner,
I am sure I was the least memorable student in my Hebrew School class, but I attended Hebrew School at Temple Emanu-El for three years, roughly from 1991-1994 (up until my bat mitzvah). I am now a Captain in the U.S. Marine Corps, deployed to Camp Leatherneck in Afghanistan.
Tonight, for Chanukah and for Shabbat (forgive me typing out an email on Shabbat!), we had a little service. There was a little group of us, and a Navy rabbi flew in for the occasion. As everyone was sharing where they were from, I mentioned New York and the congregation at Temple Emanu-El (jokingly noting the difference in size of the congregation!). Little did I know that you had been sending packages to the Marines out here! Everyone immediately recognized the name.
The rabbi and the group of Marines, Sailors and Soldiers (there didn't happen to be any Airmen there) asked me to pass along thanks. It means so much to us when we are remembered by those back home, especially during this Thanksgiving/Chanukah season. We all miss our families, and these gestures really do warm our hearts and remind us that we are part of a much larger family.
I haven't lived in New York since I graduated from high school, but it will always be my home. Thank you very much for supporting us, and especially for supporting my Marines.
Semper Fidelis, Happy Chanukah and Shabbat Shalom!
Captain Lindsay L. Rodman
U.S. Marine Corps
Back to For the Troops