---
Bringing the volunteer spirit closer to home, we offer several
opportunities where congregants can assist at the temple directly.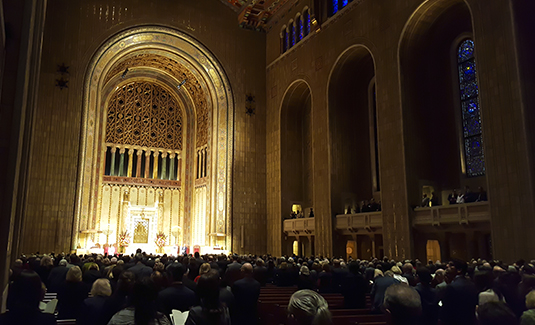 USHERS:
The role of Emanu-El's ushers is to greet congregants and guests, answer their questions and maintain the solemnity of the service. Ushers accomplish this by welcoming worshipers, helping them find their place in the prayer book, and by directing those unfamiliar with the temple building to seats, rest rooms, exits and other necessary locations. Ushers are expected to dress in a dignified and unobtrusive manner and to maintain decorum in our sanctuaries with the help of temple employees. Ushers are provided with a manual containing basic information about their duties.
Being an usher at Temple Emanu-El is an important position. We welcome the interest of members who would like to join this longstanding group of dedicated volunteers who enhance the worship experience for members and visitors alike.
Volunteer with the Ushers Committee »
---
TOUR GUIDES:
Every Saturday, following worship services, a member of our congregation leads a tour of the temple for interested visitors. These guides discuss the important architectural features of our magnificent Fifth Avenue building, the history of Temple Emanu-El as one of the great Reform temples of the world, and the programs we offer today to members of the congregation and to the community at large.
Each volunteer receives training from our temple staff and generally is needed only once every two months. Often, the guide also will act as an usher for the morning service.
Volunteer to be a Tour Guide »
Back to Volunteering