---
The following letter was sent by Lifelong Learning Director Saul Kaiserman to our Religious School families in response to the March 2011 events in Japan...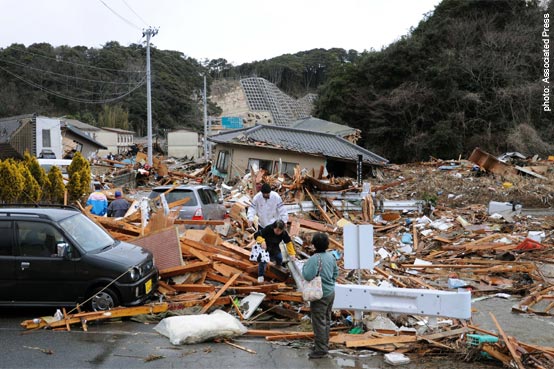 Religious School students,
their families and our Emanu-El community responded generously during the week of March 13, 2011 — raising more than $1,050.

Following is a breakdown by school day:

• Sunday classes — $179 (students); $472.36 (Purim Carnival, parents and community)

• Monday classes — $121 (students); $47.69 (parents, community)

• Wednesday classes — $137 (students); $99.94 (parents, community)

Thank you to all!
As we have had to do
too many times these past few years, we are taking a one-week break from our Religious School's regular
tzedakah
collection (currently for
Soles4Souls
) to respond to an urgent humanitarian crisis.
I'm sure you are aware of the
devastating earthquake and tsunami
that struck Japan on Friday, March 11, 2011. The 8.9 earthquake, the most powerful to hit Japan in more than 100 years, has killed hundreds of people and caused untold damage through massive flooding.
During the coming week of Religious School, all
tzedakah
funds collected will go to the
American Jewish Joint Distribution Committee
(JDC). If you would like to make a donation directly to the JDC to support their relief efforts, you can do so at their
website
.
Soles4Souls will be providing
ongoing relief
in Japan during the coming months, so I'm pleased that our Student Council had the foresight to select this organization as our final
tzedakah
beneficiary for the school year. We will resume collection for Soles4Souls after spring break.
Back to Tzedakah