---
At the start of December 2010, a four-day wildfire engulfed
the Carmel Forest near the city of Haifa, Israel.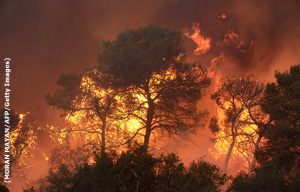 The fire was
the worst in Israel's history, consuming about 10,000 acres of forest and about 4 million trees. Israeli responders were helped by an international fleet of more than 30 firefighting aircraft and ground personnel from more than 16 countries. At least 42 people were killed, and more than 17,000 residents were evacuated.
In response to immediate needs of those affected by disaster, the Religious School
tzedakah
collection for the week of Chanukah was dedicated to raising funds to help with disaster relief for the victims of the Carmel forest fires in Northern Israel. Our community raised
$544.32
for this cause, which will go to help in the rehabilitation to this area through the
American Jewish Joint Distribution Committee
.
Back to Tzedakah