---
All temple members and friends are invited to celebrate with us...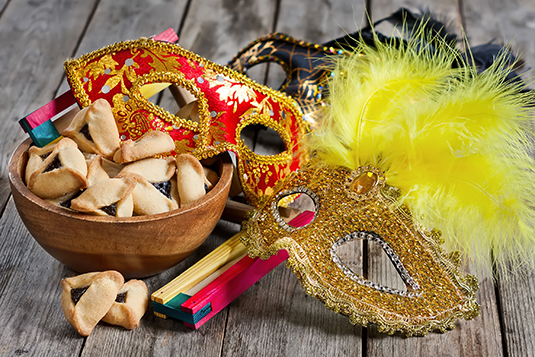 For Adults Only: The Purim Story as It Was Meant to Be Told
Tuesday, February 13 | 11 AM
Club 65 (our group for temple seniors age 65 and over) welcomes Rabbi Sara Sapadin, who will lead us in exploring the twists and turns of
Megillat Esther
(The Scroll of Esther) and mine the mysteries hidden within this extraordinary text. Join us as we rediscover this beloved story of our tradition. This is NOT your kids' or grandkids' Purim story!
Congregational Megillah Reading...With a Twist!
Wednesday, February 28 | 5:30 PM
All are invited for our annual reading of the Megillah of Esther. Our celebration includes a festive scotch tasting and hamantaschen. Grab your gragger and get ready to cheer!
Family Purim Celebration
Sunday, March 4 | 11 AM to 2 PM
Purim Shpiel: 11 AM (Fifth Avenue Sanctuary)
Whodunnit? Someone stole all the hamantashen and the only one who can solve the mystery is the intrepid Inspector Captain Hamantashen, played by Rabbi Amy Ehrlich. Join her as she interrogates each of the characters from the Purim story about what really happened. The only problem is, none of them can agree on the facts! This hilarious production is appropriate for every age, so bring the whole family!
(View highlights from last year's festivities »)
Mini-Carnival for Young Families and Nursery School students only: 11:30 AM to 12 PM.
Carnival open to kids of all ages, temple members and friends: 12 PM to 2 PM.
Can't make it in person to the Purim service and shpiel?
Watch our livestream video at
www.emanuelnyc.org/broadcast
.
Back to Celebrate Purim!