---
The catalogs described below are available for purchase. Please allow 3 to 5 weeks for delivery. Send your check, made payable to CONGREGATION EMANU-EL, to the following address: Congregation Emanu-El, One East 65th Street, NY, NY 10065, Attn: Temple Office/Museum Catalogs.
---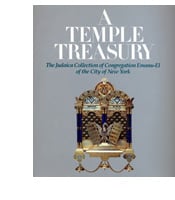 A TEMPLE TREASURY: THE JUDAICA COLLECTION OF CONGREGATION EMANU-EL OF THE CITY OF NEW YORK
This book is a luxurious display of the Temple's world-class Judaica collection, documenting more than 200 objects with extensive historical descriptions and high-quality photography. The collection includes Judaica used in the sacred service, commemorative items that reflect Emanu-El's rich New York history, as well as objects used in the Jewish home.
The catalog also features essays by Dr. Cissy Grossman, Reva Godlove Kirschberg and Dr. Ronald B. Sobel that put the objects into aesthetic, social and religious context.
Color photography is by Malcolm Varon; black-and-white photography is by Will Brown.
Cost: $40 (hardcover) and $25 (softcover), plus $7 for shipping and handling.

---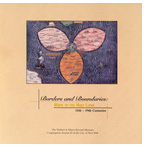 BORDERS AND BOUNDARIES:
MAPS OF THE HOLY LAND, 15th — 19th CENTURIES
This catalog features photography and descriptions of the 35 maps that made up this museum exhibit. The catalog also incorporates introductory essays by Elka Deitsch, Senior Curator; Thomas Suarez, author of
Early Mapping of Southeast Asia
,
The Crustacean Codex
and
Shedding the Veil
; and Dr. Shalom Sabar, chairman of the department of Jewish and comparative folklore at the Hebrew University of Jerusalem. Photography is by Malcolm Varon and Suzanne Kaufmann. Exhibition Curator: Elka Deitsch.
Cost: $10 (soft cover), plus $3 for shipping and handling.
---
TO HAVE AND TO HOLD:
DECORATED JEWISH MARRIAGE CONTRACTS,
17th — 19th CENTURIES
This booklet contains images and catalog information for a selection of
11
ketubot
that were displayed. Contains essays by Dr. Shalom Sabar,
Dr. Ronald B. Sobel and David Wachtel. Exhibition Curator: Elka Deitsch.

Cost: Call for availability.
---
Back to Museum