---

Having caring family nearby can be an invaluable practical
and emotional support for older people, especially those living alone.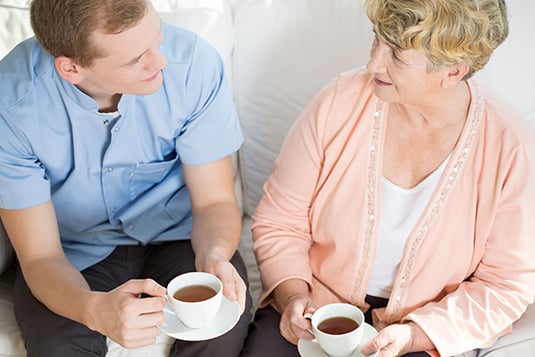 Photo: Katarzyna Białasiewicz / 123RF
When we have family,
there's always someone who can be called in an emergency, entrusted with keys and mail, who knows where important documents are located, is aware if there is a medical condition that needs to be addressed quickly, or who can help make important decisions about the future.
But for those who do not have adult children or other family, it's important for them to start making plans to anticipate such needs. Organized under our Emanu-El Cares initiative,
Community as Family
is a program where the "un-familied" can meet in a casual, confidential place to discuss these issues with others who have similar concerns. Together we discuss alternative solutions, develop skills to advocate on our own behalf, and explore ways to create a trusted family dynamic from an extended community of neighbors, friends, professionals and others.
---
Read an article by temple member Wendl Kornfeld »
---
The international media has been paying increasing attention to the challenges faced by the growing demographic of the older un-familied, and many of the topics to be discussed at Community as Family are inspired by recent articles and blogs, including housing, caregiving, finance, technology and social issues.
Community as Family will meet on
Mondays
from
6 PM to 7:30 PM
on the following dates throughout the 2018-19 season:
October 22
November 26
December 17
January 28
February 25
March 25
April 22
May 20
Light refreshments will be served, and there are no commercial endorsements.
Participation is open to temple members only.

RSVP to
Community as Family
or
(212) 507-9603
.
Back to Life-Cycle Events