---
Reading to underprivileged kids, learning from our elders,
visiting a homeless shelter, feeding the hungry, helping the environment...
These are the responsibilities of Mitzvah Corps.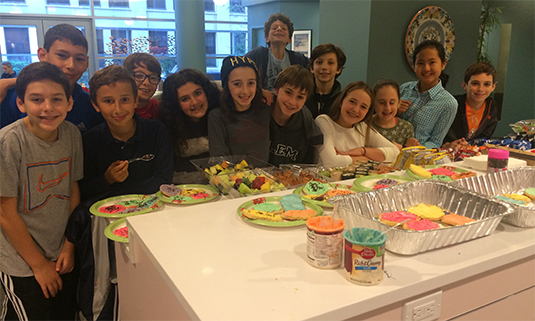 Mitzvah Corps empowers students
to respond to important societal issues such as education inequality, senior-citizen care, diversity, hunger, homelessness and climate change. This year-long program is divided into seven units, each focused on a different issue. Each unit includes a learning, action and reflection session.
---
Watch a video of our Mitzvah Corps students
discussing their experiences »
---
RECOGNITION OF ACHIEVEMENT
Throughout the year, students earn Mitzvah Messenger points for the completion of units (attending the learning, action and reflection session for a unit), attendance at special sessions, family participation or other projects. All students who complete at least one Mitzvah Corps unit will be honored at a family dessert reception in the spring. Students will be applauded for their commitment toward making the world a better place, and families will be joined for a special evening that strengthens our sense of community. Students who earn 18 points will be honored by the community publicly as "Mitzvah Messengers," and students who earn 25 points will be honored as "Super Mitzvah Messengers." These students will receive special recognition at the Mitzvah Corps dessert reception and on the final day of Religious School.
REGISTRATION INFORMATION
Complete the Religious School registration form (available in
PDF
format) and return it to the Department of Lifelong Learning. Participation in Mitzvah Corps is available only to students whose families are members of Congregation Emanu-El. The 2018-2019 tuition fee is $1,1575 ($100 discount per student for registration forms and full tuition payments received by June 29, 2018).
QUESTIONS?
Contact our
Coordinator of Youth Learning and Engagement
.
Back to Tweens and Teens