---
The Shehecheyanu is a blessing of thanks for new and unusual experiences.
It typically is recited at the beginning of holidays and to celebrate special occasions.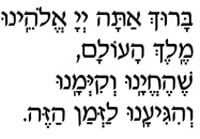 Ba-ruch a-ta Adonai, Eh-lo-hei-nu

Meh-lech ha-olam,

she-heh-kheh-ya-nu v'kee-yeh-mah-nu

v'hee-gee-ah-nu lah-z'mahn ha-zeh.
We praise You, Eternal God, Sovereign of the Universe, for giving us life, for sustaining us and for enabling us to reach this season.
Back to Bar & Bat Mitzvah Program