---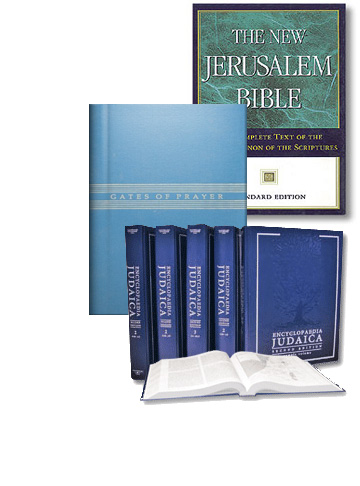 PRIMARY AND
CLASSICAL WORKS
For a great translation of the Bible, we recommend
The New Jerusalem Bible
, published by Doubleday. This is a superbly organized edition, with excellent introductions to each book of the Bible, written in very comprehensible English.
The Authorized Daily Prayerbook With Commentary
by Joseph H. Hertz, published by Soncino Press. This is the traditional Siddur, along with an excellent commentary.
Either the
Union Prayer Book
(used at Temple Emanu-El) or
Gates of Prayer
. Both are liturgies of the Reform Movement.
A Rabbinic Anthology
, edited by Claude Montefiore. This features excerpts from the Talmud and Midrash.
REFERENCE WORKS

The Encyclopedia Judaica
, published by Keter Publishing Company. This 15-volume set belongs in the library of every Jewish home.

JEWISH RITUAL AND OBSERVANCE
A Guide to Jewish Religious Practic
e by Isaac Klein
Liberal Judaism at Home
by Morrison Bial
Living Judaism
by Wayne Dosick
To Be a Jew
by Isaac Halevy Donin
JEWISH PHILOSOPHY
Basic Judaism
by Milton Steinberg
God In Search of Man
by A. J. Heschel
The Essence of Judaism
by Leo Baeck
JEWISH HISTORY
A History of the Jews
by Paul Johnson
Jewish People, Jewish Thought
by Robert Seltzer
My People
by Abba Eban
The Shaping of Jewish History
by Ellis Rivkin
Back to Religious School