---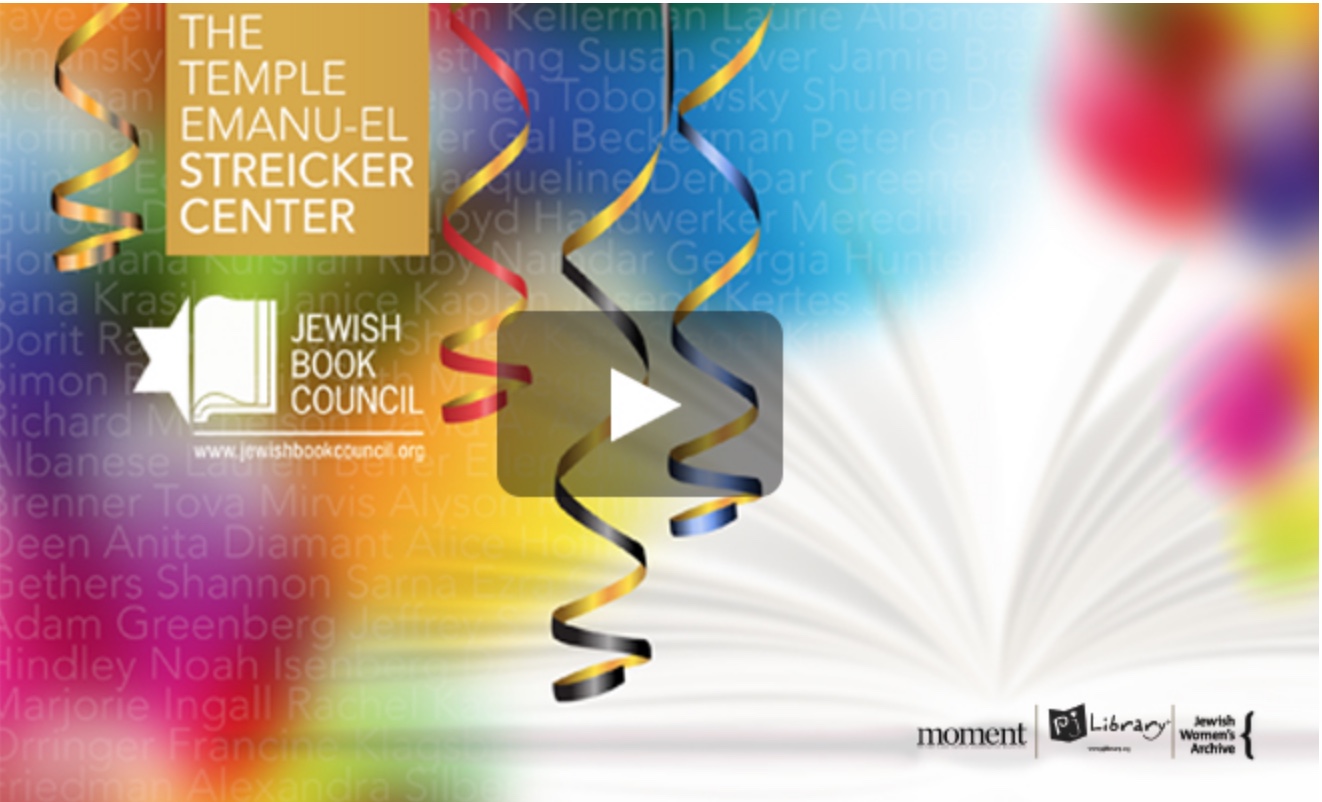 People of the Book, meet your match!
Join us for a day filled with Jewish storytelling and storytellers — more than 50 in all —
some you already know and love, others you'll be thrilled to discover.
Listen to and meet authors whose work reflects the dazzling diversity of the Jewish book world, from crime to Yiddish culture, Jewish cooking to historical fiction and serious biographies.
To make sure that the next generation learns to embrace our reading tradition, we've arranged a special kids corner with Jewish storytellers, live music and special activities. And you won't want to go home without visiting our pop-up bookstore, where you may choose from an exciting array of hundreds of titles to add to your Jewish home library.
The next 5,000 years of conversation begins here!
---
Sunday, March 11, 2018 | 11 AM to 3 PM | 10 East 66th Street
---
SCHEDULE:
11 AM
— Opening Session: Faye and Jonathan Kellerman
12:15 PM
— Breakout Session 1
1:30 PM
— Breakout Session 2
2:30 PM
— Pop-Up Store/Meet the Authors/Book Signing


Choice of Breakout Sessions:
• Laurie Albanese,
Stolen Beauty
; Lauren Belfer,
And After the Fire
and Ellen Umansky,
The Fortunate Ones
• Jennifer Armstrong,
Seinfeldia
and Susan Silver,
Hot Pants in Hollywood
• Jaime Brenner,
The Forever Summer
• Lou Cove,
Man of the Year
and Stephen Tobolowsky,
My Adventures with God
• Shulem Deen,
All Who Go Do Not Return
• Anita Diamant,
The Red Tent
and Alice Hoffman,
The Rules of Magic
• Martin Fletcher,
The War Reporter
with Gal Beckerman,
When They Come for Us We'll Be Gone
• Peter Gethers,
My Mother's Kitchen
and Shannon Sarna,
Modern Jewish Bake
r
• Ezra Glinter,
Have I Got a Story for You
and Eddy Portnoy,
Bad Rabbi
• Adam Greenberg,
Get Up: The Art of Perseverance
• Jeffrey S. Gurock,
Jewish New York
• Lloyd Handwerker,
Famous Nathan
• Meredith Hindley,
Destination Casablanca
and Noah Isenberg,
We'll Always Have Casablanca
• Dara Horn,
Eternal Life
; Ilana Kurshan,
If All the Seas Were Ink
and Ruby Namdar,
The Ruined House
• Georgia Hunter,
We Were the Lucky Ones
• Marjorie Ingalls,
Mamaleh Knows Best
• Rachel Kadish,
The Weight of Ink
and Sana Krasikov,
The Patriots
• Janice Kaplan,
The Gratitude Diaries
• Joseph Kertes,
The Afterlife of Stars
and Julie Orringer,
The Invisible Bridge
• Francine Klagsbrun,
Lioness
• Tova Mirvis,
The Book of Separation
and Allyson Richman,
The Lost Wife
• Dorit Rabinyan,
All The Rivers and Meir Shalev, My Russian Grandmother and
Her Vacuum Cleaner: A Family Memoir
• Kate Siegel,
Mother, Can You Not?
• Alexandra Silber,
After Anatevka
• Seth M. Siegel,
Let There Be Water
• Dr. Ruth Westheimer, in conversation with Sheila Nevins,
You Don't Look Your Age…
and Other Fairy Tales
and Marilyn Simon Rothstein,
Lift and Separate
CHILDREN'S AREA
(offered concurrently)
Jacqueline Dembar Greene,
American Girl
books; Dan Gutman,
My Weird School Series
;
Amy Hest,
When Jesse Comes Across the Sea
; Ann Koffsky,
Judah Maccabee Goes to the Doctor
; Richard Michelson,
The Language of Angels
• Hands-on illustration corner
• Sing-along for younger children
Back to Temple Emanu-El Streicker Center