---
Through the Art Center for Seniors at Emanu-El, 50 or more senior citizens meet at
Temple Emanu-El each Monday from October through May to participate in
art projects and exercise classes, as well as to socialize.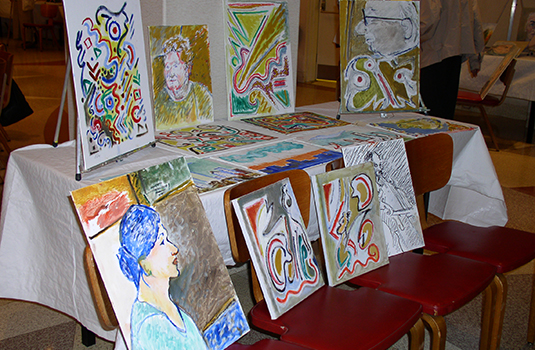 Professional art and exercise instructors oversee the activities and are assisted by Women's Auxiliary volunteers. Each year's program ends with an annual art show.

We have two new art instructors this year.

Amy DiGi studied at the Art Students League of New York with Mary Beth McKenzie and Joseph Peller. She received her MFA in Painting from Lehman College and BFA in Drawing and Art/Design from Pratt Institute. She currently paints en plein air where ever her brushes lead.

Kevin Galeazzi is an illustrator living and working in New York City. He was born and raised in Brooklyn and studied at the Cooper Union.
Back to Women's Auxiliary