---
The Ushers Committee of Temple Emanu-El plays an important role
at High Holy Days and at Sabbath worship throughout the year.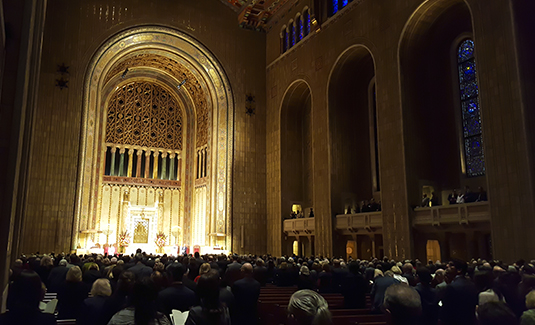 Temple Emanu-El's ushers
greet congregants and guests, help them find their place in the prayer book, and direct those unfamiliar with the temple building to seats, rest rooms, exits and other necessary locations. Ushers work closely with temple staff to ensure a meaningful worship experience for all. Anyone volunteering to usher will be invited to a training session to review roles and responsibilities. Ushers are provided with a manual containing basic information about their duties.
Being an usher at Temple Emanu-El is an important position. We welcome the interest of members who would like to join this longstanding group of dedicated volunteers who enhance the worship experience for members and visitors alike.
Volunteer with the Ushers Committee »
Back to Men's Club