---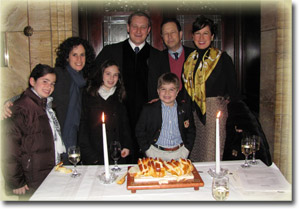 The Kahane and Janover families, here with Rabbi Goldsmith, celebrate Shabbat and Chanukah at Temple Emanu-El before leaving for Israel. They help light the candles, bless the wine and challah, and receive a blessing for a good trip.
ff we go! Our trip begins on December 24, 2009, in Tel Aviv. Everyone will meet up in the lobby of our beautiful hotel, right on the shore of the Mediterranean, to begin our journey together.
Please check back often to follow our progress around the Land of Israel as we learn its history, meet its people and immerse ourselves in the birthplace of our people. You'll read first-hand accounts of our adventures from the trip participants, as well as see photos and follow links to Web sites about the places we visit.
Our First Evening in Tel Aviv
By Emily Janover (Fourth Grade)
On the Road in Israel
By William Kahane
A Day in Jaffa
By the Schenker Family
Zippori and the Hula Valley
By Rabbi Howard Goldsmith
Quest for Peace
By the Cohn Family
Waiting for the Messiah in Safed
By the Cohn Family
Back to Family Trip to Israel