---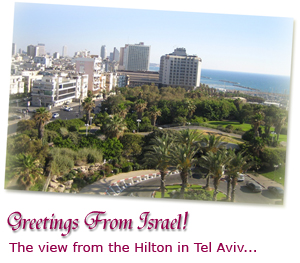 ell, they're off! Temple Emanu-El's first-ever congregational trip to Israel has begun. We're very pleased to offer this online journal so that friends and family back home can monitor the progress and experience of participating families. Check back every day for photos and written descriptions about the day's activities.



Day One
— Our congregants arrive safely and celebrate their first Shabbat in Israel as a group.
(Essay by Lynda DeLott)
Day Two
— A scavenger hunt, a tour of a secret munitions factory and, of course, an ice cream break make for a busy day!
(Essay by Saul Kaiserman)
Day Three
— Traveling to Caesarea for a day's lesson about
the history of Israel's ancient roots.
(Essay by Morgan J. Wolf)

Day Four
— Israel…a culinary and adventure destination. Who knew?
(Essay by Ann Marks)
Day Five
— A mother and daughter share a special moment in Jerusalem.
(Essay by Judith Becker)

Day Six
— A trip to the Western Wall and the whole Jerusalem experience are more than one can imagine.
(Essays by Rabbi Howard Goldsmith and Ben Weintraub)
Day Seven
— The group gets dirty at a true archaeological dig and reflects at the Israeli National Memorial and Museum for the Holocaust.
(Additional essay by Liz Albert, on behalf of the Kleinman family)

Day Eight
— A step back in time while journeying to Masada, topped off by the "beautifying" affects of the Dead Sea.
(Essay by Melanie Shulman)
Day Nine
— A free day to enjoy the Old City, one last Shabbat in Israel and home again. See you soon!
(Essay by Rabbi Howard Goldsmith)
Back to Family Trip to Israel