---
Begun in 1927 and completed two years later, Temple Emanu-El was the crowning achievement of the descendants of the German-Jewish immigrants who first formed Emanu-El Congregation in 1845.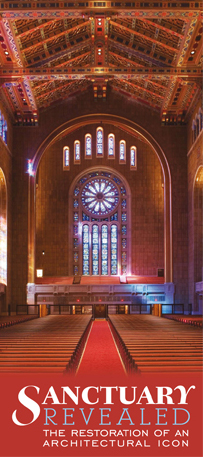 Although exceedingly well maintained,
the Temple building had begun to show the vicissitudes of time after three-quarters of a century. Weather had deteriorated the aging gutters and roof leaders, and intruding water had damaged the plaster ceiling and the stone-and-tile walls. In addition, the imposing size and height made many surfaces inaccessible for cleaning the years of built-up grime.
In late 2000, the architectural firm of Beyer Blinder Belle (known for its work on the restoration of Grand Central Terminal, the Chrylser Building and many other projects) was commissioned to direct the restoration of Emanu-El. Work was begun in October 2004 and completed in two phases over the next two years.
In December 2006, the Herbert & Eileen Bernard Museum of Judaica created the exhibition "Sanctuary Revealed: The Restoration of an Architectural Icon," which features photographs taken by the architects upon the completion of the original construction in 1929, presented in dialogue with corresponding images taken during the course of the recent restoration.
The restoration and preservation of Temple Emanu-El has proven to be as much a spiritual regeneration as it has been a repairing and cleaning of masonry, metal and glass. It honors faithfully the original vision of the founders of the congregation, as well as the builders of this landmark structure. But, most important, it invites us now to renew our sprit by offering new inspiration for those who worship here today.

Launch the online exhibition »
Back to Tour Emanu-El