---
The founding of Temple Emanu-El was a consequence of the second wave of immigration of Jews from Europe to America.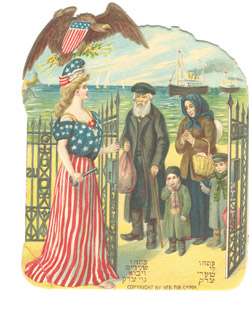 During the time of the
American Revolution there were approximately 10,000 Jews living in the United States — most of Sephardic ancestry. Following the failure of the liberal revolutions in central Europe, Jews from the regions of Germany and Austria began their migration across the Atlantic. During the years 1835 to 1855, approximately 250,000 made their way across the Atlantic and settled primarily in New York, Baltimore, Cincinnati and even
San Francisco. The roots of the oldest Reform synagogues in America lay in these communities.
Established in l845 at a gathering of 33 Jews from Germany, Temple Emanu-El held its first services in a second floor loft at the corner of Grand and Clinton streets on the Lower East Side. With more Jews coming from Germany to New York, and with the growing success of the community, the congregation moved progressively uptown — both physically and spiritually. By l868 — only 23 years after founding Temple Emanu-El — the congregants built an edifice at Fifth Avenue and East 43rd Street, which was at that time the largest synagogue structure in America. By this time, Temple Emanu-El already had gained the reputation of having the most prominent congregation of members in the country.
As Emanu-El continued to grow, the neighborhood in which it was situated became increasingly commercialized. The decision thus was made in the mid-l920s to relocate. Consolidating in l927 with Temple Beth-El (located on Fifth Avenue and East 76th Street), the congregation built its present house of worship at Fifth Avenue and East 65th Street.
In December 1960, with its population still expanding, Emanu-El purchased adjoining property on East 66th Street. Today this site houses our Religious School and Nursery School, as well as the Temple Emanu-El Skirball Center for Jewish Life and Learning, the Leon Lowenstein Sanctuary and other facilities for congregational activities.
Over the years, and owing to the long history of the congregation, the mode of worship conducted at Temple Emanu-El has been called "Classical Reform." Today, we prefer the appellation of "practical reform," a spirit in the congregation that is open to inclusion, flexibility and sensitivity to the needs and desires of our various constituent members.