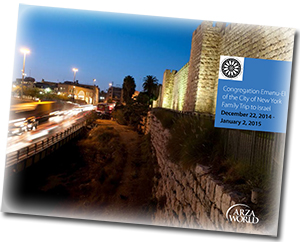 From December 22, 2014, until January 2, 2015, Temple Emanu-El will be in the Land of Israel! Join us as we explore our Holy Land both ancient and modern. On this webpage, we'll be able to share our experiences with our friends, family and Temple community. Check back daily to read about and see what we're doing through text, pictures and even some videos of our trip.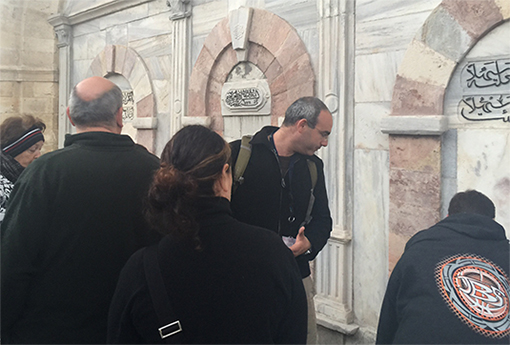 Happy New Year!!!
Today was our last day in Israel. It's hard to believe how fast the time has gone. We started the day with a tour of the
Ayalon Institute,
the secret, underground bullet factory that got Israel through the war of independence. Afterward, we got a taste of local Tel Aviv, literally, with a chance to taste and smell at the
Levinsky Market
.
The day continued with a chance to learn about the
Palmach,
one of the fighting units that became the IDF, and then a short tour of the ancient city of
Yafo
. It's the same port city we are told Jonah sailed from when he fled God's call.
The final visit of the day was
Independence Hall
. It was a moving experience to end the trip with the words of Ben Gurion declaring the State of Israel. The only real way to follow that, of course, was with a group dinner to say goodbye to one another and to thank BG (our tour guide) for an amazing and life-changing 10 days.
« Back to Family Trip to Israel
Post a comment/View comments »
(0 comments)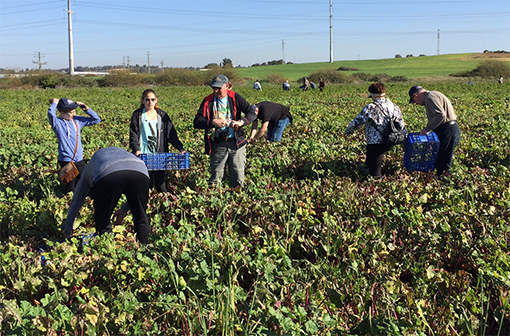 Today was a dirty day!
We started by going out to a farm to pick beets. That might sound like a strange thing to do in Israel, but we just couldn't imagine a trip without doing something good for others. Together we picked about a ton of beets (literally, one ton). That will feed 200 families!
Afterwards we had a bite to eat at a local mall. It was neat to see how similar and how different things are: lots of familiar stores but some new ones, too.
Then, we got dirtier with an archaeological dig at
Beit Guvrin
. We went down into an ancient basement, 2,000 years old. We found pottery, animal bone and even a snail shell from the animals they used to make the fringes of the prayer shawl! The rabbi was particularly excited about that (of course).
We ended the very long day with some time on our own in Tel Aviv, although many of us showered (trying to get the dirt off proved difficult) and turned in early.
« Back to Family Trip to Israel
Post a comment/View comments »
(0 comments)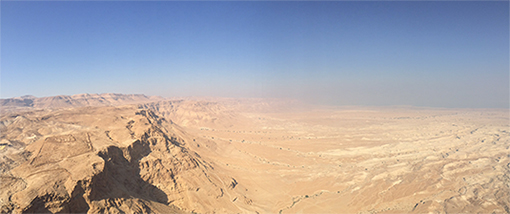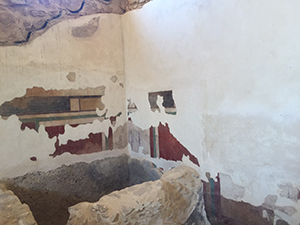 Fresco from thousands of years ago
On Tuesday, December 30, we went to
Masada
.
The walk up Masada is around 2 miles. Some walked the long and tiring hike, while others took the cable car. Once we made it to the top, we walked around learning about the four Ds: dinner, defense, drink and dollars. The first D, dinner — we learned about what Herod ate. For breakfast he would eat a fresh omelet; for lunch he would eat a nice juicy steak; and for dinner he would eat other fresh meats. We also learned about the Romans and zealots (Jews) and their battles. And, we learned and saw how and what they bathed in.
Click on the thumbnails below to see larger images.
---
Today we also went to the
Dead Sea
.
There were lots of people. When we got there and got changed, we all put on mud. We smeared it all over our bodies. It is supposed to make our skin soft. We were supposed to let it dry, but no one really did. In the beach there were sharp rocks and salt, so we had to wear shoes. From the mud we made the trek down to the water. There, we took of our shoes and climbed over the rocks into the water.
As soon as you enter the Dead Sea, your legs will float up and you will sit. Or, you can go on your stomach and float. In the Dead Sea we were all very careful to not get the water in our mouths, eyes or ears. If you have a cut in the Dead Sea, it stings. (I learned the hard way!) After the Dead Sea we had to go and rinse ourselves off so the mud would come off. After everything, our skin was really soft and smooth. The Dead Sea was very fun!
— Sydney Zgodny
---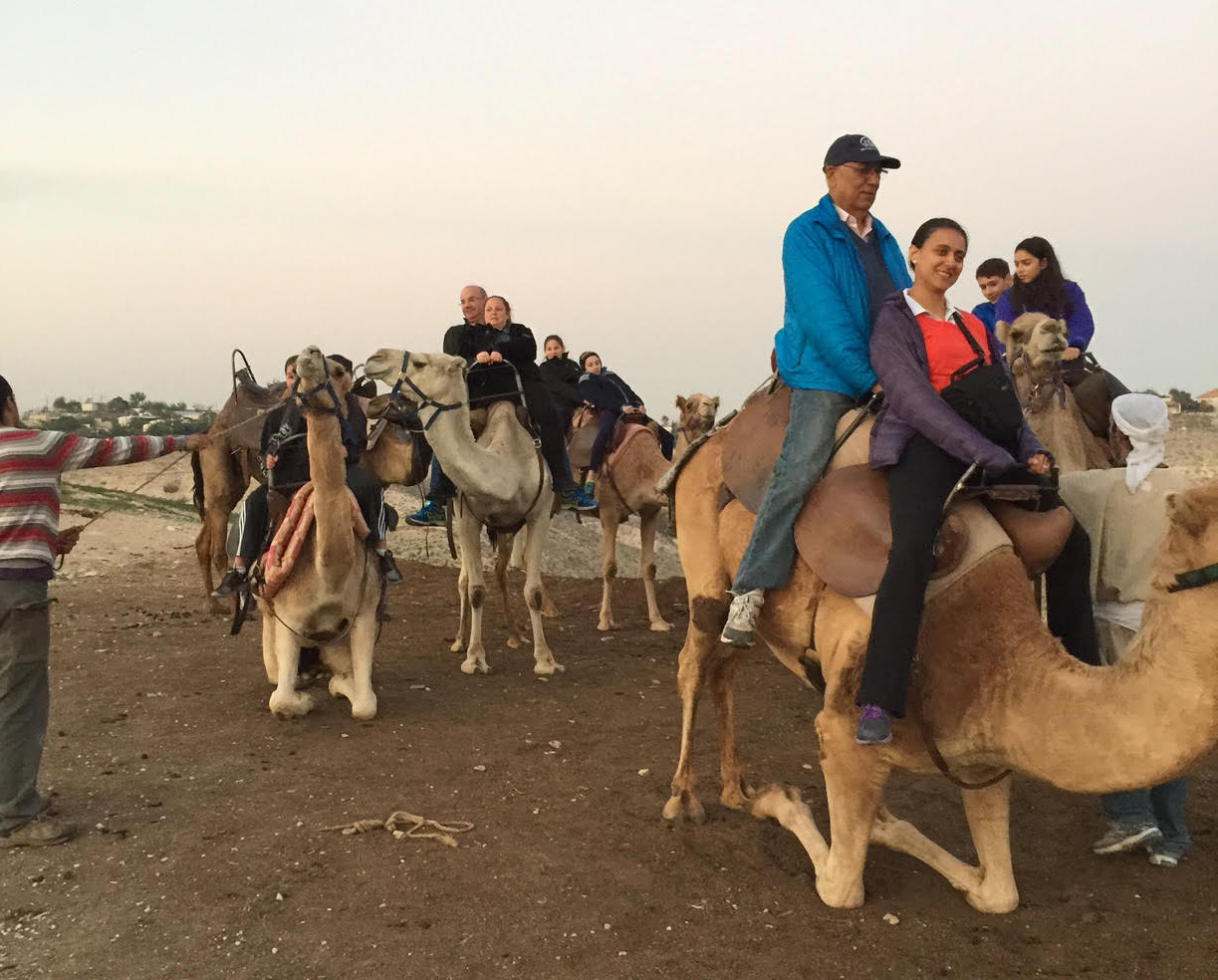 We started our adventure riding camels but some people walked.

There were issues when one camel wanted to be close to another, but the riders didn't like it. The camel, which we named Alfred, didn't want to sit down, so that we could get off. Getting off the camels, we were told to pray! Then we were greeted by the Australian Abraham and given a feast of delicious foods and lemonade. We encountered a fox on the way to the bathrooms, and there were cats everywhere — much to some people's disliking. The kids were given camel-riding licenses in the gift shop, and people talked about the baby camel, which was extremely adorable. All in all, Genesis Land was a big success.
— The Sorkins
---
Ein Gedi
is an area in which David came to hide after King Saul kicked him out of his kingdom.
At Ein Gedi, David hid in a cave. When King Saul came to look for him, he had to go to the bathroom. He happened to go in the cave where David was. David then cut of a piece of King Saul's cloak. Then he came out and said, "Look, I didn't kill you even though I could have. I am the better man."
At Ein Gedi there is a beautiful water fall and lots of caves. There are animals there such as an ibex and some snakes.
— Sydney Zgodyny
« Back to Family Trip to Israel
Click on the thumbnails below to see larger images.
Post a comment/View comments »
(0 comments)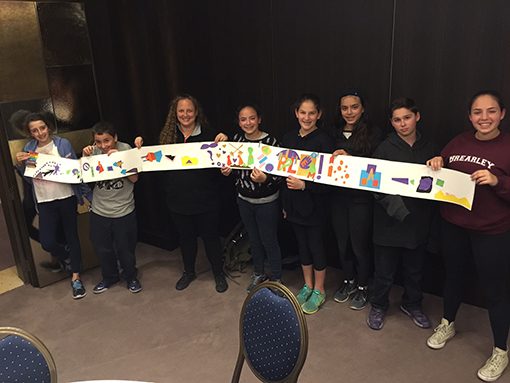 What a great day in historic Jerusalem! We awoke to another beautiful morning and started the day with a visit to the breathtaking Wall, along with a b'nei mitzvah service for Neel and Leila. Of course, the day had special meaning for our family, particularly because the grandparents were all in attendance!

Rabbi Zeidman and Cantor Cohen (from our sister synagogue — Temple Har El — in Jerusalem) led the service against a majestic backdrop. Later, we walked the tunnels under the Kotel and marveled at both the architecture and the history. The day concluded with some shopping in the Jewish Quarter and a family art project that yielded a take-home souvenir for each of the participants.

Thank you Rabbi Zeidman and the Emanu-El community for guiding us through the b'nei mitzvah process, and special thanks to all of our fellow traveling families for joining us in the service and being so easy going about our concurrent photo shoot. Each of you helped to make this a most memorable occasion!

Onward, to Tel Aviv...
— The Epsteins
« Back to Family Trip to Israel
Post a comment/View comments »
(0 comments)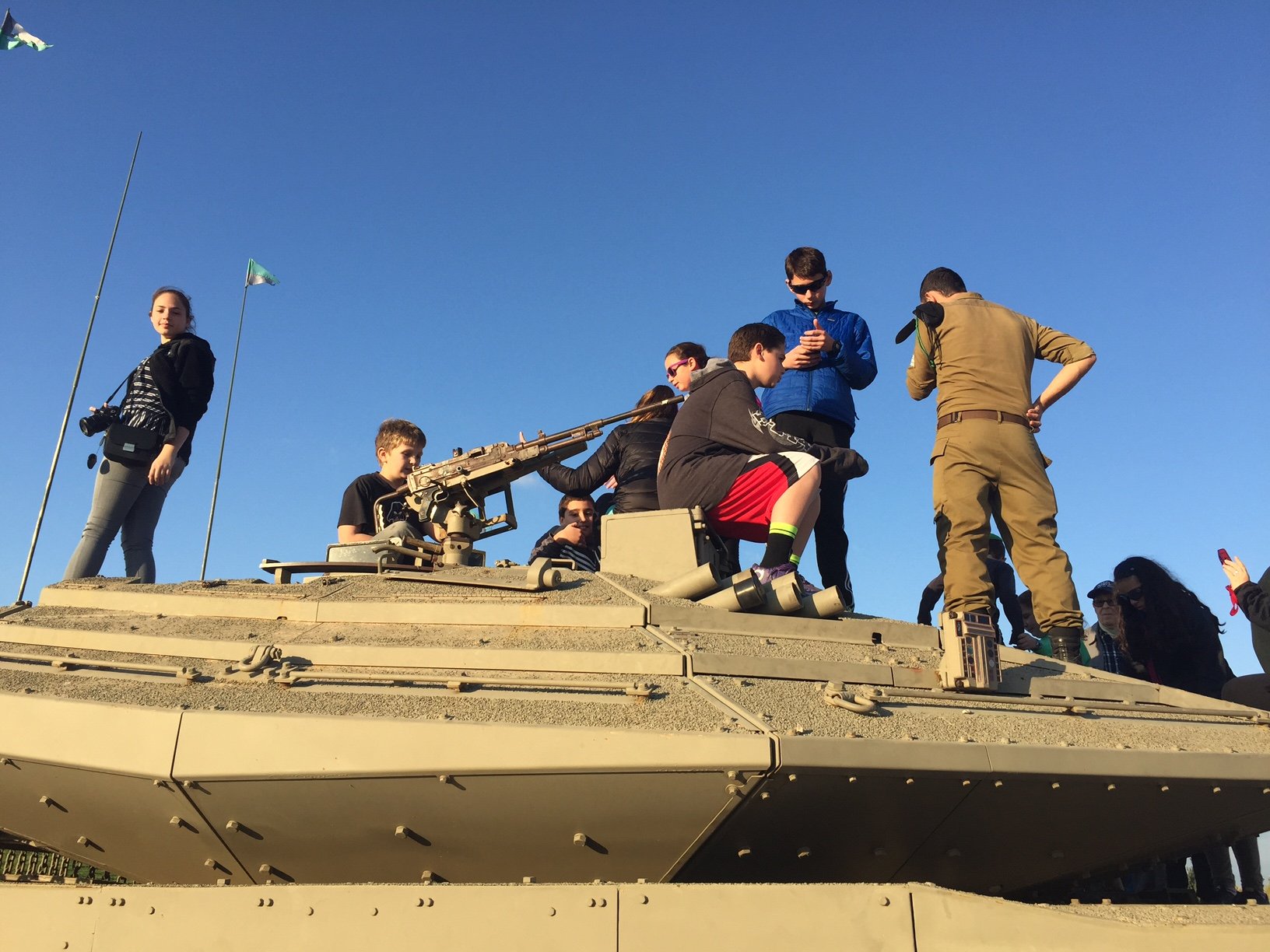 Today was a difficult day.
We started with a visit to
Yad Vashem
, the Holocaust museum in Jerusalem. For the first half of the day we remembered and mourned together. (Because of the nature of our visit today, there are not many pictures.)
Afterwards, we paid our respects with a visit to Theodore Herzl and Yitzhak Rabin's graves.
Har Herzl
, where the cemetery for politicians and soldiers is located, is remarkable and beautiful...a lovely tribute to those who gave so much.
And, we concluded the day as a group with a visit to the
Armored Corps Memorial
in Latrun. We got to learn all about the tank division and even to climb on the tanks themselves.
After a return to the hotel, Rabbi Zeidman did the unthinkable and went to dinner with the students so that the adults could take a couple of hours to themselves — although Rabbi Zeidman insists it was really so the kids could get a couple of hours without the parents. The kids had a great time on
Ben-Yehuda Street
, with dinner, a scavenger hunt and dessert. Just as the parents aren't telling what exactly they did with their free time, the kids won't be telling anyone what they had for dessert!
« Back to Family Trip to Israel
Post a comment/View comments »
(0 comments)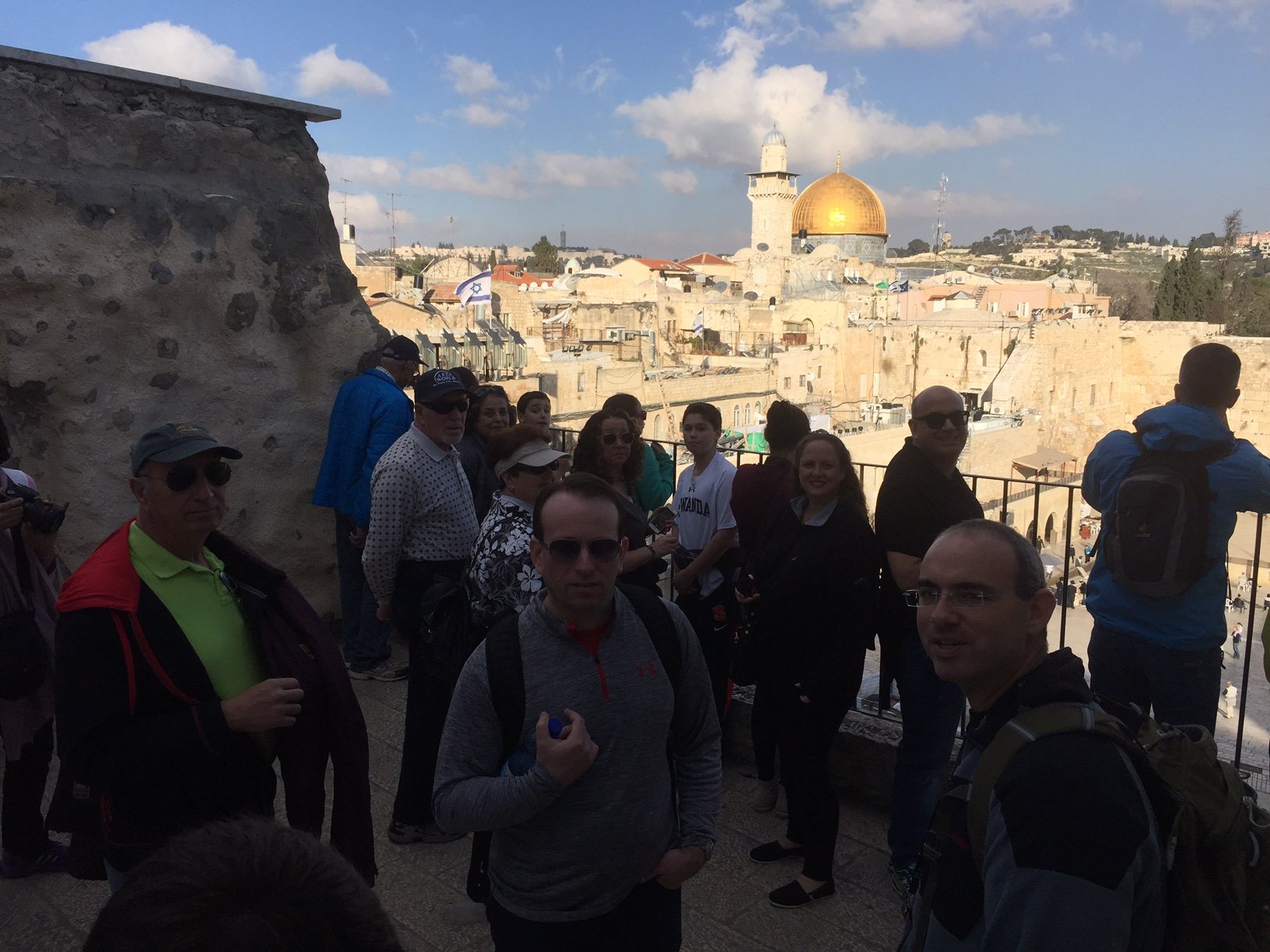 Shabbat Shalom!
Today, most of us spent the beginning of the day honoring Shabbat with some rest to recharge our batteries. And then we took off again, full steam ahead with a fairly intense three-hour walking tour of the
Old City of Jerusalem
.
We walked the ramparts of the walls, strolled along the rooftops and even went to take a look at the
Church of the Holy Sepulchre
. We learned about the quarters of the city, about the history and the changes that took place after the Six Day War, and we walked in the footsteps of those who visited this special place thousands of years ago.
We ended with some time in the
shuk
(market) before heading back to the hotel for a little more rest. Not too much, though, as it was soon time for
Havdalah
, the brief service celebrating the end of Shabbat.
For
Havdalah
we went to Beit Shmuel, to a room with an amazing view of the Old City. We gathered with Reform and Conservative Jews from all over the United States for a special service with Jewish rock musician
Rick Recht
. We saw friends from Park Avenue and Central Synagogues. We had a great time and then broke up for dinner on our own.
« Back to Family Trip to Israel
Click on the thumbnails below to see larger images.
Post a comment/View comments »
(0 comments)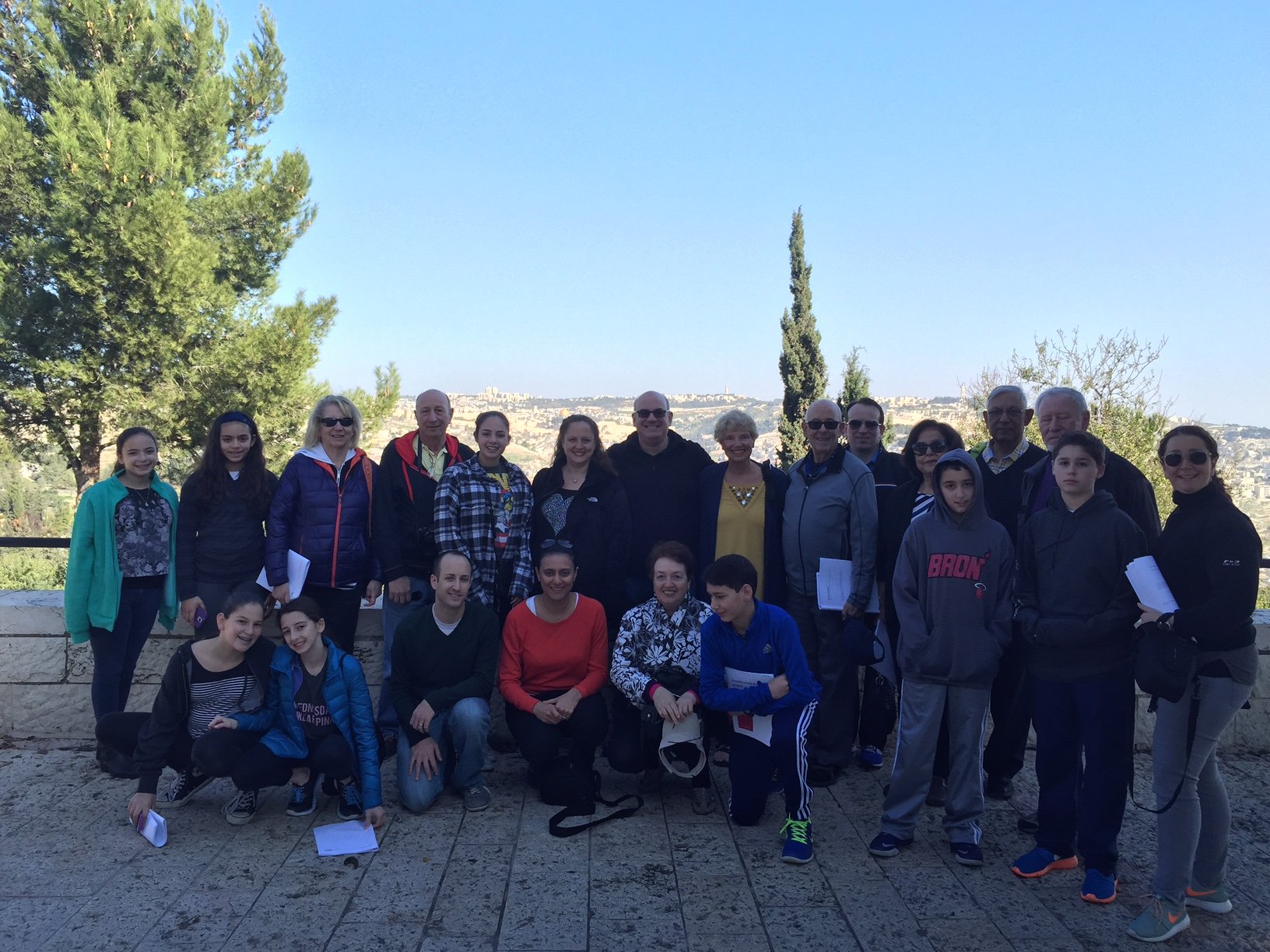 This morning we woke up
to head out to the
Haas Promenade
for our official "Welcome to Jerusalem" moment. With a little grape juice, some singing and a blessing for special occasions we looked out upon our holy city.
With that, we delved into the ancient world with a trip to the
Israel Museum
and a look at the Dead Sea Scrolls and the Second Temple model there. We learned about the political struggles happening for our people in ancient days and how our disagreements with one another are almost as old as our tradition is. (But not quite!)
It being Friday, it was time then to start getting ready for Shabbat. So, like the entire city (it seemed!) we went to
Machane Yehuda
, the market, for lunch and to shop. We heard sellers shouting and felt people cramming their way through the narrow thoroughfare, as we tried to get everything we needed before it all closed down for the day of rest.
After some lunch — and many chances to sample treats (like Rabbi Zeidman's favorite rugelach from Marzipan) — we took time to relax and get cleaned up for Shabbat services at
Kehillat Har-El
.
Har-El is the oldest Reform Jewish synagogue in Israel, and Temple Emanu-El has had a long relationship with its congregation. Emanu-El and Har-El are dear friends. This evening their service was being led not only by rabbi and cantor but also by the
b'nei mitzvah
class. The sanctuary was packed! It was such a joy to see Reform Judaism alive and well in Israel.
The evening ended with a special Shabbat dinner for the group back at the hotel. With a little singing and the blessings, it was a wonderful meal and a special evening overall.
« Back to Family Trip to Israel
Click on the thumbnails below to see larger images.
Post a comment/View comments »
(0 comments)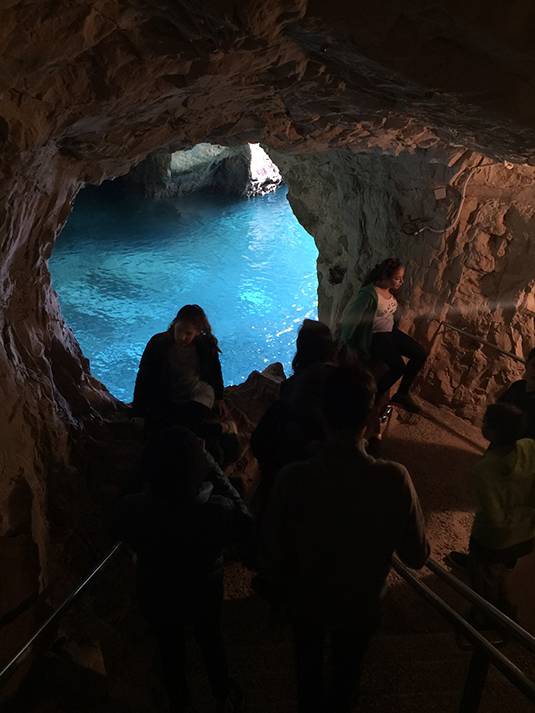 This morning we woke up in Haifa
and drove even further north to get a down-and-dirty sense of Israel with a jeep tour near the Lebanese border. The adults packed into a couple of jeeps, and the kids (along with the rabbi, of course) got an adventurous driver to themselves.
Afterwards, we went to
Rosh Hanikra
to see the beautiful grottos carved out by water and learned about the railway the British tried to build but which the
haganah
destroyed during the fight for independence. Rosh Hanikra is now a beautiful place where many people choose to celebrate weddings.
We then stopped for a Lebanese-style lunch. It was very similar to our other Middle Eastern meal experiences but with a couple of twists.
Afterwards, we took a look at
Akko
(or Acre). We learned more about the crusaders and walked through a 1,000-year-old sewage tunnel. The town has a beautiful mosque, and we were able to visit just before prayer time.
We then drove, under cover of darkness, into Jerusalem. It was a long day, but we are finally in this holiest of cities!
« Back to Family Trip to Israel
Click on the thumbnails below to see larger images.
Post a comment/View comments »
(0 comments)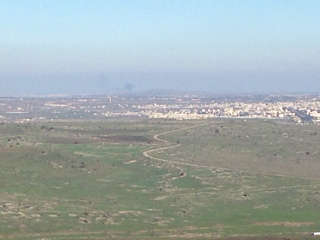 After a hearty buffet breakfast,
we left our hotel in Haifa for a morning visit to
Tzfat,
a hilltop town in the north made famous by the Jewish mystics (Ha'Ari). We visited the
Caro Synagogue,
where the Genizah contains books dating back hundreds of years. We then walked the stone-paved streets where the group broke apart to visit galleries and craftsmen. A stop at the candleshop was followed by street crepes.
From Tzfat we travelled to
Mount Bental,
at the edge of the Golan Heights. From there we could see smoke and hear gunfire coming from
New Quneitra
in Syria.
Then, we drove to
Kibbutz Ein Zivan,
where we toured the
De Karina
chocolate factory, which included a tasting and chocolate making. From there we went to an olive oil factory where they produce both oil and cosmetic products.
The day concluded at a restaurant in the far north where we hosted several members of the IDF. We sat with with a young woman who serves as a medic and plans to go to medical school after completing her two years of service. She told us about treating injured Syrians who get to the border seeking medical treatment.
After such an active day there was no issue falling asleep.
« Back to Family Trip to Israel
Click on the thumbnails below to see larger images.
Post a comment/View comments »
(0 comments)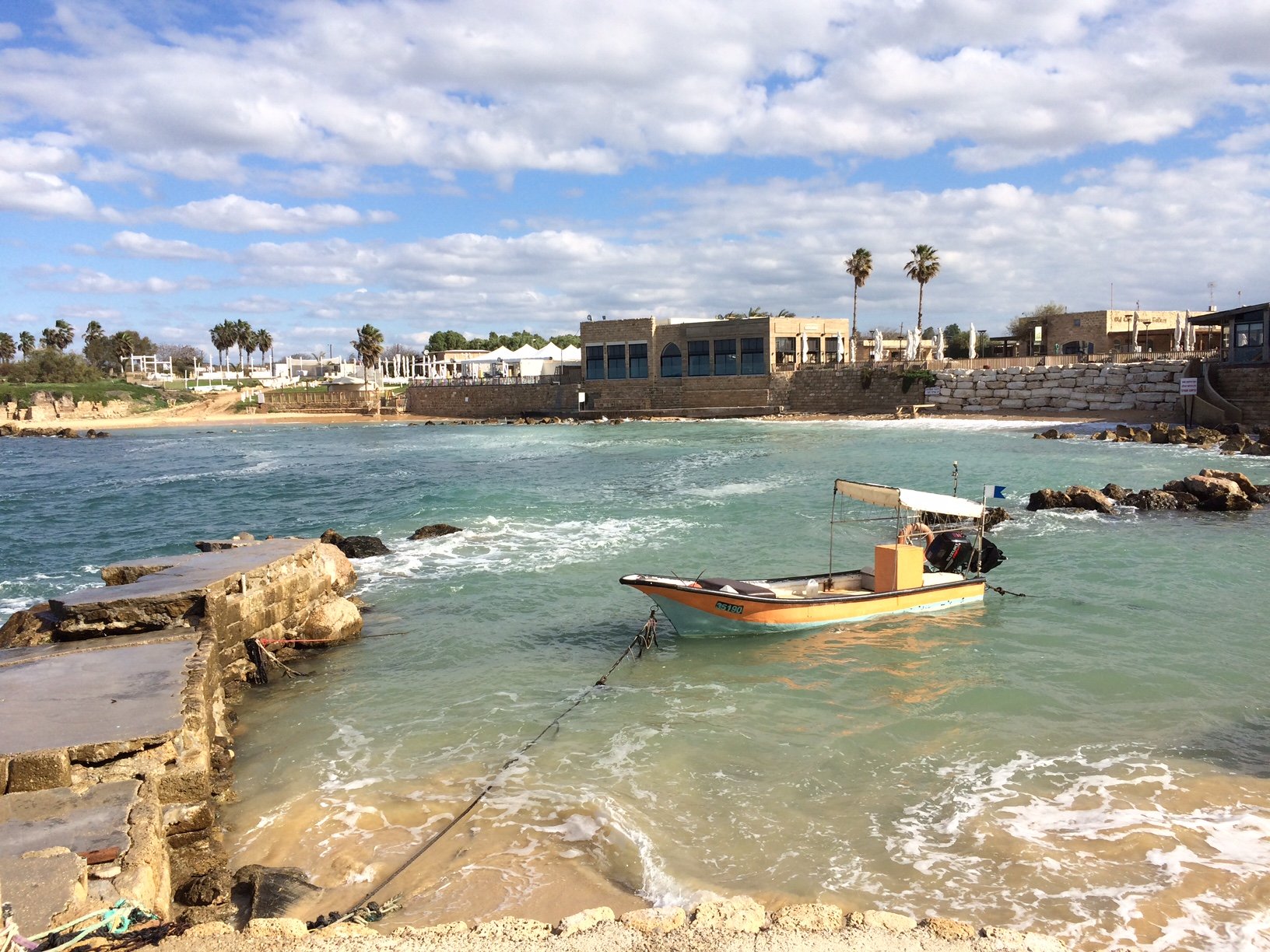 Our trip began today
in Tel Aviv with an amazing view of the Mediterranean Sea and a chance to get to know one another a little bit better in this new place.
We drove from Tel Aviv up to
Caesarea
for our first site visit. Together we saw the ancient ruins of the Roman city built by King Herod...a town that, by its nature, expresses the complicated nature of our people's existence in Israel.
After Caesarea, we made our way to
Haifa,
where Jews, Christians and Muslims live together. We saw the
Bahai Gardens
and checked into our hotel. Celebrating the last night of Chanukah together, we had a special dinner to mark this new voyage in our lives.
« Back to Family Trip to Israel
Click on the thumbnails below to see larger images.
Post a comment/View comments »
(0 comments)