---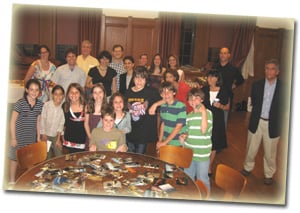 "I was overjoyed to watch my 9-year-old daughter enjoy a Shabbat service in Jerusalem."
— Lucy Prager Weintraub,
adult participant in
Emanu-El's 2008 Israel trip
"It was a lot of fun,
and I would certainly go back."
— Sam Weintraub, 13,
student participant in
Emanu-El's 2008 Israel trip
he participants in Emanu-El's first ever trip to Israel joined together at the Temple for a reunion on Saturday evening, September 6, 2008. The schedule for the evening was jam packed.
Following dinner, the kids decorated a cake in the shape of Israel, marking the highlights of our trip with pieces of candy and frosting. Meanwhile, the adults had an opportunity to reflect on how the trip changed their understanding of Israel as a land, a country and a people. All regrouped, and everyone picked one photograph from the trip that was especially significant for them. In small groups, each person had the chance to explain why that photo was significant. Each family then made a poster with the photos and some text about their experience in Israel.
Finally, we marked the end of Shabbat and our time together with a
Havdalah
ceremony. It was wonderful to come back together as a group and share the memories from our trip together.
Back to Family Trip to Israel
Click on the thumbnails below
to view and print larger versions of the photos.