---
In celebration of Rabbi Amy B. Ehrlich's 26th anniversary at Temple Emanu-El, the congregation donated $25,000 to build a school in Chivaquib, Guatemala in her honor. The project was kept secret from Rabbi Ehrlich until it was announced during the Temple's Mitzvah Day on November 9, 2014.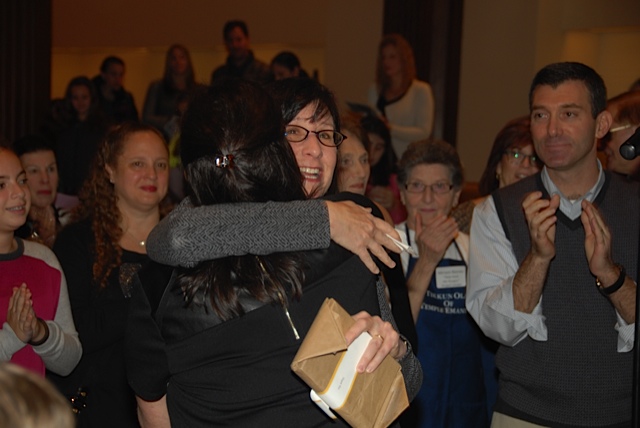 Photo by Gary K. Deane
The donation was given to
Pencils of Promise,
an international and highly respected organization that not only builds schools but also ensures that every school continues to be fully operational. The Chivaquib II Preschool and Primary School currently has 88 students and is expected to affect a total of 1,780 children over the coming years. The donation covered the costs of three new classrooms, serving a village of just more than 1,000 people.
On Mitzvah Day, when the school project was announced before the congregation, Rabbi Ehrlich was deeply moved, surprised and almost speechless. She said, "This is beyond any hope that one could have. This is beyond words."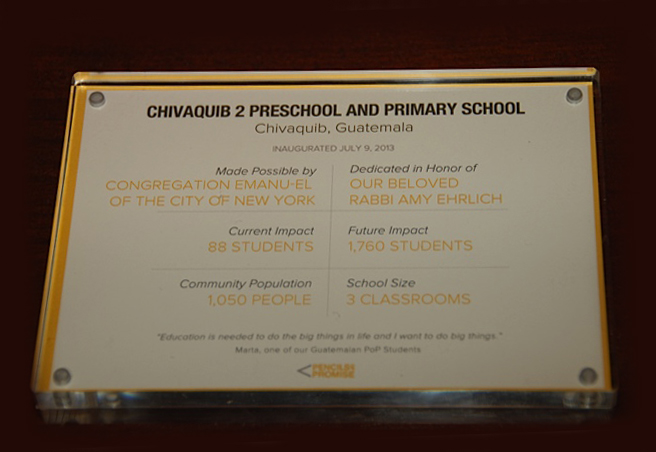 Click image to enlarge
---
Watch a video of this event »
---
"Rabbi Ehrlich is a treasure to our congregation and the Jewish community," said Senior Rabbi Joshua Davidson. "Over the years, she has inspired thousands to do the work of
tikkun
, 'healing and repair.' This school in her name demonstrates the impact she has had near and far. It is a gift of our love for her."
"Bringing Mitzvah Day to Emanu-El was Rabbi Ehrlich's vision," said Lynda DeLott, leader of our Tikkun Olam Committee. "Finding this meaningful way to honor her and recognize her commitment to helping others on this anniversary seemed like a perfect fit."
Mitzvah Day was started in 2005 as a way to create a greater sense of community among Temple members while helping others. This year marks its 10th anniversary. Hundreds of members of the congregation participate annually as part of the activities of the Tikkun Olam Committee. The Hebrew word "mitzvah" commonly means "a good deed," while "tikkun olam" can be translated as "repairing the world." The mission of the Temple's Tikkun Olam Committee is "repairing the world, mitzvah by mitzvah."
Back to Mitzvah Day
Click on the thumbnails to view larger versions of the photos.