---
A distinguished Art Deco muralist, mosaicist, painter and decorative artist,
Hildreth Meière (1892 – 1961) ranks among the very small number of women
whose achievements gained the recognition of the established art world during the first half of the 20th century.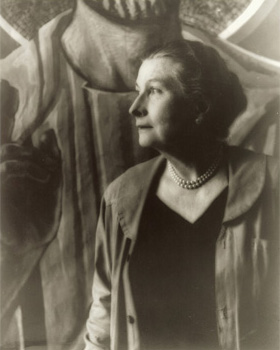 Hildreth Meière became the
country's leading practitioner of the art of mosaic and one of America's most gifted embellishers of architectural environments. In New York, her designs include the Art Deco plaques on the exterior of Radio City Music Hall. Her work also can be found in St. Patrick's Cathedral, St. Bartholomew's Episcopal Church and the Bank of New York at One Wall Street.
Meière was commissioned with the design of the mosaics that adorn the areas on which the main decorative treatment of the sanctuary was focused — the ark and bimah. The Emanu-El commission brought her into a creative partnership with the Berlin-based Ravenna Mosaic Company. Meière's detailed sketches were turned into full-scale outlined designs, known as cartoons, which were covered with an adhesive onto which the pieces of glass and tile were laid. The tiled cartoons were then affixed directly to the wall. The entire project was overseen by Gerhard Wagner, director of the Ravenna Mosaic Company in the United States.
For Emanu-El, Meière incorporated Jewish imagery into the eight-story-high arch encasing the bimah. One can find images of a Torah, a menorah, an eternal light, a wedding canopy, a Star of David, a shofar (ram's horn) and a tallit (prayer shawl); at the apex of the arch is a creation scene from Genesis that depicts the separation of the sky from the sea. In her designs, Meière stylized many of the elements of Art Nouveau into new forms that eventually would become known as Art Deco. Meière's Emanu-El mosaics feature rich jewel tones and shimmering gold. The representational images also combine with abstracted geometric and organic patterns to create an elegant and complex style.
(Photo and biography courtsey of Louise Meière Dunn)
Back to Tour Emanu-El
Click on the thumbnails below to download
and print larger versions of the photos.