---
The following essay is by Reva Godlove Kirschberg, of blessed memory, who served as the Bernard Museum's curator emeritus. In 1985, Mrs. Kirschberg initiated what became a four-year, painstaking effort that involved assembling, numbering, photographing and recording each object in the Temple's Judaica collection, as well as centralizing and improving storage.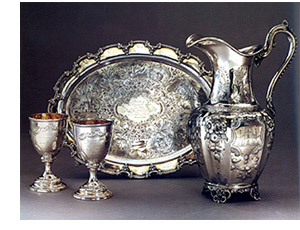 Objects of Judaica
made to enhance and enrich Jewish ceremonial life have been created over the years for the congregations Emanu-El ("God is with us") and Beth-El ("House of God"), which merged in 1927, as well as the two congregations — Anshe Chesed ("Men of Mercy," formed in 1828) and Adas Jeshurun ("Congregation of Israel," formed in 1866) — whose amalgamation in 1874 formed Temple Beth-El. We are fortunate that the caretakers of the past always have had great regard for their Judaica objects and [that] they have come to us as part of our congregation's history.
For example, in 1856, Dr. David Einhorn, then rabbi of Har Sinai Congregation in Baltimore and later of Temple Beth-El in New York, was invited to lecture at the 11-year-old Congregation Emanu-El. After his sermon, the board of trustees presented him with a resolution stating that he was "an able advocate of the true principles of Judaism" and also gave him a beautiful matched silver set consisting of a tray, pitcher and two wine cups. The pitcher is engraved with a depiction of Temple Emanu-El on East 12th Street. After Dr. Einhorn's death, the cups were separated from the pitcher and tray, but in 1956 — 100 years later — both cups were returned as gifts to the congregation. The complete set is now in the collection.
In 1888, the congregation honored Lewis May, its president of 25 years, and presented him with a magnificent silver vase commissioned from Tiffany & Co. This was decorated with an engraving of the Temple Emanu-El of its day at Fifth Avenue and 43rd Street, as well as other Jewish motifs and a laudatory Hebrew inscription in relief. In 1931, Winston Lewis May, son of Lewis May, presented the vase to the congregation, and it now is a gem of the collection.
In 1890, a splendid gift presented to the congregation by the great philanthropist and financier Jacob H. Schiff and his wife, Therese, on the occasion of the confirmation of their daughter, Frieda, contributes to our understanding of the elegance of the Temple's worship service. It is a set of Torah ornaments purchased from Posen Silberwaaren, a firm of silversmiths in Frankfurt on the Main and Berlin. The set was used on one of the Torah scrolls in the Ark of the Temple for many years. Eventually it became too fragile for [daily] use and [was removed for display] in our museum. [It is returned to the Temple's Fifth Avenue sanctuary for use during the High Holy Days.]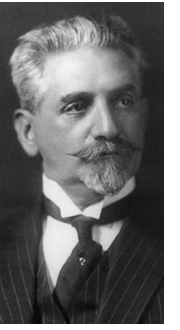 Henry M. Toch
All of these works were made as functional objects that were a part of the life of the community. The idea of a museum collection came much later in the history of the congregation when, in 1928, Henry M. Toch, trustee and treasurer of Temple Emanu-El, and his wife, Dora, offered a group of 30 ceremonial objects to be conserved in a "Musee Judicae"
(sic)
for the new synagogue then under construction. In his personal catalog, Toch recorded that these objects had been owned by his family for more than 80 years and that they were used in a private synagogue in his father's home at 155 Forsyth Street, on New York's Lower East Side. This family synagogue was open for worship to the people of the neighborhood. Among the ceremonial objects Toch donated to the congregation is a pair of Torah finials made in Amsterdam in the early 18th century that bear the crests and monograms of the Da Fonseca and Mendez families.
The largest and most important gift of Judaica to Congregation Emanu-El was the bequest of the Honorable Irving Lehman, judge of the New York State Court of Appeals, which was received in 1945. Judge Lehman collected Judaica over many years, listing each acquisition in a small notebook in which he set down details relating to some of the objects. Among others, he mentions two Sabbath plates that had belonged to his mother and grandmother; works from the Bezalel School of Arts and Crafts brought to him from Jerusalem by his father-in-law, Nathan Straus; and a silver Sabbath lamp bought at auction in an undifferentiated lot.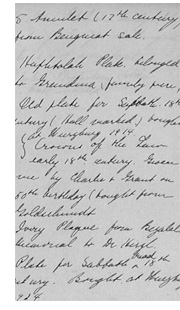 Segment from the notebook
of Judge Irving Lehman
(Click to view a larger version.)
In 1932, Judge Lehman had a more formal catalog of his collection prepared by Rabbi I. S. Meyer. The Lehman collection continued to be augmented by purchases and gifts, and by the time it was bequeathed to the congregation, it included 150 pieces. Among these were such famous objects as the Festival Lamp by Adam Johann Boller and the 14th century Lehman/Figdor Chanukah lamp. That Congregation Emanu-El possesses such special objects is the result largely of the vision of Irving Lehman — he who not only loved and enjoyed his Jewish heritage but also bequeathed his cherished collection to this congregation so that both his fellow congregations and fellow New Yorkers might share his vision.
Objects that were in private collections and
given as gifts to the congregation incorporate a precious heritage to us all and provide a vivid sense of the collective history of the Jewish people.
Back to Museum