---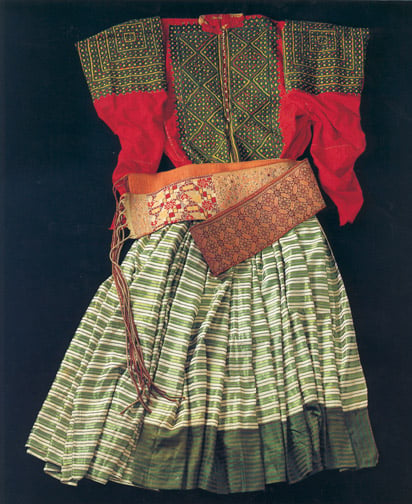 JEWISH MOROCCAN WEDDING DRESS AND BELT
Blouse
Erfoud, early 20th century
Cotton, cotton embroidery; metal buttons
Red cotton blouse
with green, yellow and red embroidery in diagonals on the front, in squares on the sleeves, which fold back. Small collar of brocaded cotton; metallic buttons on front.
---
Wrap (Izar)
Erfoud, early 20th century
Woven silk and cotton
The embroidered blouse
would be tucked inside the gathered, double wrap (
izar
) and held at the waist with the wide, tightly woven belt, which would be wrapped and tied. The end of the wrap then would be brought up over the back to serve as a shawl. The costume would be complemented by an elaborate headdress and many necklaces and ear ornaments.
Congregation Emanu-El Museum Purchase Fund, 1986
Back to Collection Highlights