---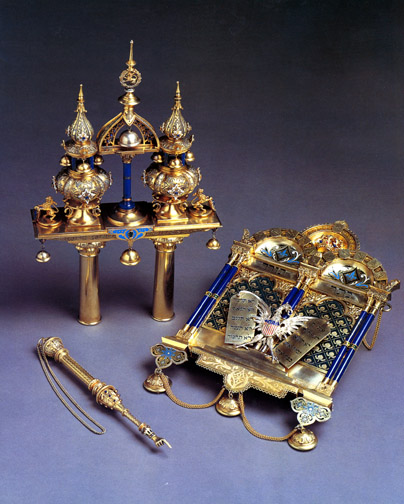 SCHIFF TORAH ORNAMENTS
Torah Shield (Tas), Torah Finials (Rimmonim), Torah Pointer (Yad)
Silversmith: Lazarus Posen
Frankfurt, 1890
Gilded silver, embossed and chased, castings, lapis, enameling, semiprecious stones, enameling, niello
This magnificent set
of ornaments for the Torah scroll was presented to Emanu-El by Jacob H. and Therese Schiff in commemoration of the confirmation of their daughter, Frieda, on Shavuot, May 25, 1890. The ornaments were used originally in the Emanu-El synagogue on Fifth Avenue and 43rd Street and subsequently in the present building on Fifth Avenue and 65th Street. Schiff was an outstanding financier and philanthropist; his daughter married Felix Warburg and continued the tradition of good works.
The architectural form of the heavy Torah shield, with its trio of arches and coupled columns, is a metaphor for the Temple. It seems probable that the enameled American shield was added to the piece to particularize it for its American purchasers. The rampant lions, bells, enameled ornaments, deeply chased and nielloed surfaces, and colored stone of the
rimmonim
add to the variety of texture and visual drama.
Gift of Jacob H. and Therese Schiff, 1890
Back to Collection Highlights