---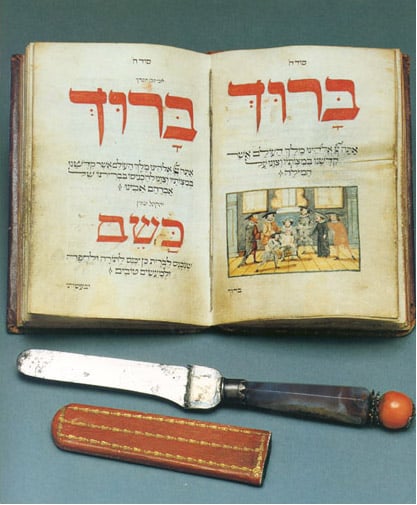 CIRCUMCISION BOOK AND KNIFE
Prayer Book for the Mohel
Scribe: Judah Leib ben Samson Segal
Dusseldorf, 1744
Ink, colors, gold, on vellum; tooled leather binding
This hand-written book is based on a work by Rabbi David Lida (Rabbi David
ben Aryeh Leib of Lida), printed in Amsterdam in the 17th century. Beautiful handwritten books with hand-painted illustrations continued to be made even though printed versions had become available. While the mohel (circumciser) would have been familiar with the prayers, there is a requirement that they be read. All of these prayers relate to the duties of the circumciser. The "Grace After Meals" appears because there is always a festive meal after the rite. And because the circumciser might be obliged to travel to the family of the newborn male child, there also are prayers for travelers. The image shown here is of a circumcision ceremony taking place in a synagogue. The infant is placed on the lap of the sandek (godfather) while the mohel performs the circumcision.

---
CIRCUMCISION KNIFE AND SHEATH
Italy, early 18th century
Agate, silver, coral; steel blade; paper and leather case
The elegant proportions and the use of fine silver filigree, as well as the coral bead finial, suggests an Italian origin for this knife. The coral bead was believed to hold amuletic power.
Bequest of Judge Irving Lehman, 1945
Back to Collection Highlights