---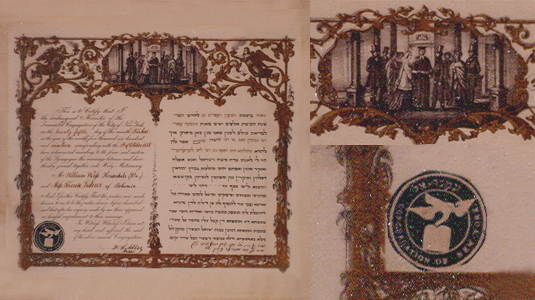 MARRIAGE CONTRACT (KETUBAH)
New York City, October 3, 1858
Bride: Therese Lederer of Bohemia
Groom: William Weiss of Honesdale, Pa.
Surrounded by scrolling vines
and trumpeting angels, the wedding scene depicted in this Jewish marriage contract
(ketubah)
appears to depict the interior of Temple Emanu-El in its location at East 12th Street, New York City. The dress of the rabbi and the clothes of the wedding party are typical of the fashionable dress of the mid-19th century. The origins of the bride and groom, Bohemia and Pennsylvania, also are reflective of the demographics of the young and growing Reform congregation.
Archival records confirm that this marriage was performed by Rabbi Samuel Adler, who served as rabbi of Emanu-El from 1857 through 1874 and was rabbi emeritus until his death in 1891. The Emanu-El stamp of a dove above the Ten Commandments is affixed at the lower left corner. An abbreviated version of the traditional Hebrew
ketubah
text is at right, and an English contract is on the left.
Gift of the Weiss Family
(CEE 29-57)
Back to Collection Highlights