---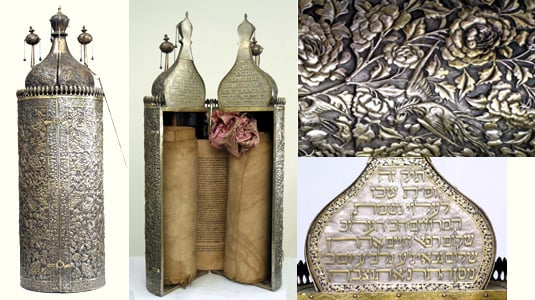 TORAH CASE (Tik), FINIALS (Rimmonim), POINTER (Yad) and SCROLL
China, 1891; Silver, copper, gilt
In Iraqi and Indian communities
and among some Sephardim, the Torah scroll is housed within a case called a
tik
. Scholars have generally dated this custom to 10th century Iraq. The Torah is read directly from the
tik
, which is placed upright on the reader's desk.
This Torah case was commissioned for a Bagdahdi congregation in Calcutta, India. The Hebrew inscription notes the date of dedication as 20 Nissan 5651 (April 28, 1891). It was made in a workshop in China as part of the late 19th century Chinese export silver trade. The form is typical of the Baghdadi Jewish community. The brownish leather
Sefer Torah
inside, is also a typical Iraqi convention.
The combination of all the aspects: the Indian usage, the Chinese origin, the Iraqi forms and the quality of the design and workmanship make this an exquisite example of the cultural confluences of the 19th century Jewish world.
Given to Herbert C. Bernard in honor of his 90th birthday, April 28, 2002, by his children, Lewis W. Bernard and Migs Woodside
Back to Collection Highlights