---
Serving the Jewish community for 150 years, the cemeteries of Congregation Emanu-El — Salem Fields and Beth-El — straddle Brooklyn and Queens and are located conveniently to Manhattan, Northern New Jersey and Nassau County.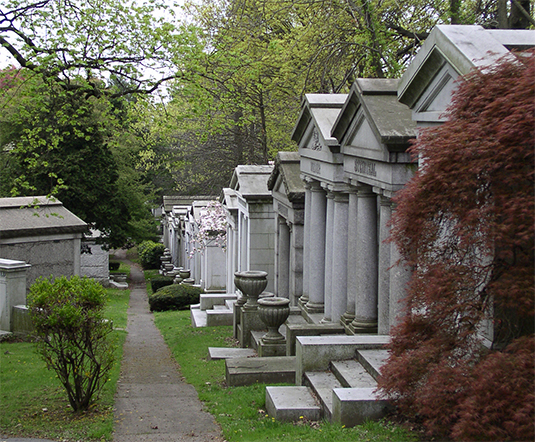 Our cemeteries feature
a meticulously cultivated and maintained landscape that is rich with mature trees, flowering bushes and verdant lawns. In harmony with this natural beauty is an array of handsome mausoleums and monuments belonging to many well-known Jewish families.
In addition, a Russian Community Memorial Garden was incorporated into Beth-El Cemetery in 2005. The garden pays tribute to Jewish Russian war veterans, their families and loved ones lost during World War II. At the center of the garden is a monument representing the Star of David, topped with an obelisk and a sculpture of an eternal flame.
A RANGE OF OPTIONS AND PRICES:
Plots are available at Salem Fields and Beth-El for individuals or families in a variety of attractively landscaped locations. These sites can accommodate many different forms of markers or monuments. Above-ground crypts and niche mausoleum spaces also are available.
Prices reflect the size and location of the site. In all cases, price includes an endowment for maintenance of the plot. Whatever your budget, we will seek to find an appropriate option.
THE FINAL ELEMENT IN PLANNING YOUR FUTURE:
Selecting a burial site is an important aspect of the estate-planning process.
For an appointment to visit Salem Fields and Beth-El cemeteries or to obtain additional information,
send a message
to our Cemetery General Manager or call
(888) 427-7535
.
Click here
for driving directions.
Back to Death and Mourning