---
No doubt exists about the centrality of the bar or bat mitzvah
experience in the lives of our families.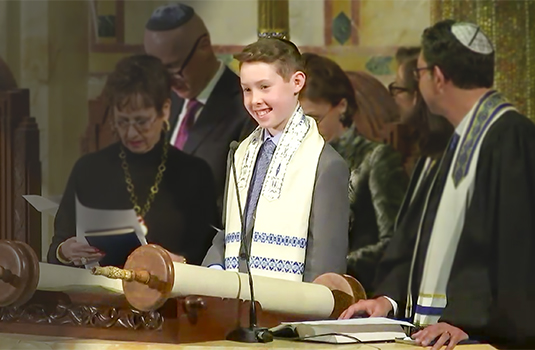 Approximately 60 children
celebrate becoming a bar or bat mitzvah each year at Temple Emanu-El. The rabbis and the cantor are involved integrally in this program. Temple Emanu-El affords its members the opportunity of participating either at the public worship service on Shabbat morning or at a private family service that may be scheduled on Friday evening, Saturday afternoon or evening, or Sunday. We take pride in the fact that only one bar or bat mitzvah student participates at a given service.
For specific information about planning the ceremony of calling a bar or bat mitzvah to the Torah, contact our
Bar/Bat Mitzvah Coordinator
in the Temple Office. A date for a bar or bat mitzvah service may be scheduled once a child reaches fourth grade or when a child turns 10. To contact the member of our clergy with whom you can discuss issues related to preparation and ritual,
click here
.
Any child who is becoming a bar or bat mitzvah at Congregation Emanu-El is enrolled automatically in our Religious School and must remain enrolled to continue to hold the date for the service. Copies of the Religious School registration form can be downloaded in
PDF format
. Questions should be directed to the
Religious School
.
Download our Bar and Bat Mitzvah Planning Guide »
Back to Life-Cycle Events