---
The High Holy Days are an especially important time in our lives — not only because of the significance of each holiday but also because of the lessons we hopefully learn as a result of the holidays.
The High Holy Days
are a time for families to come together in celebration and thought. We hope that these activities offer you a starting point for further discussion.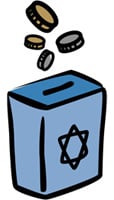 ---
ACTIVITY 1: Mitzvah Moments
Set the tone for your upcoming year by performing at least one special mitzvah each day from the start of Rosh Hashanah until Yom Kippur. Keep track of which mitzvah you performed on which day, and keep the list in a place where it will be seen all year. This should serve as a reminder to perform these sacred deeds all throughout the year. Have a great time performing all of your mitzvot! If for some reason you miss a day, don't despair...Just try to not miss two days in a row.
Download a printable Mitzvah Checklist »
---
ACTIVITY 2: Interpretations of the Shofar
The sounding of the shofar is a central observance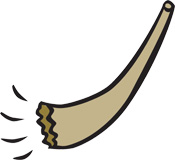 of the High Holy Days. It serves as both a triumphant blast and a heart-rending cry of suffering, pain and repentance. The great Jewish, medieval philosopher Moses Maimonides (Ramban) saw the shofar as a sort of "moral alarm clock": Awaken, you who slumber, from your sleep ... search through your deeds and repent, and remember your Creator! (Hilkhot Teshuva 3:4)

The ram's horn (of which the shofar is made) is also a symbolic reminder of the sacrifice of Isaac, in which a ram was placed in Isaac's stead as an offering to God. With this evocation of Abraham's sacrifice and merit, we pray for a year of life, health and prosperity.
When attending Rosh Hashanah services,
pay close attention to the sounding of the shofar.
How does it make you feel? What images does it bring to mind?
Of what does it remind you?
---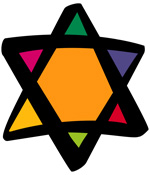 ACTIVITY 3: Admitting We Missed the Mark
During our life we all make mistakes. Promsing to not repeat those mistakes helps us begin the New Year headed in the right direction. During the High Holy Days season, the Hebrew word we use for "mistake" is "
kheit
." This word often is translated as "sin." Because we're always trying to be good people, another translation is "missing the mark."
During the High Holy Days
you
might say as an individual, "I made a mistake when I hit my brother." Or, "I sinned when I did not listen to a friend." As a community
we
might say, "We missed the mark when we used too much oil." Or, "We have done wrong by not noticing or helping the homeless."
By acknowledging our past mistakes, we recognize how to improve our lives for the coming year. Try to be specific and thoughtful.
Back to Family Holiday Activities