---
Temple Emanu-El is pleased to offer the
following programs for students in seventh and eighth grade...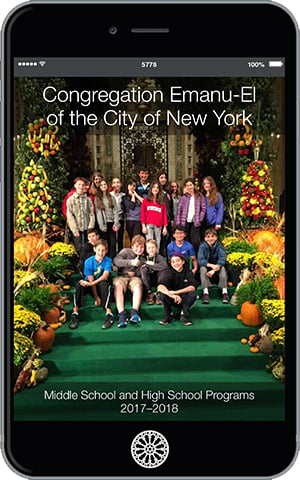 SEVENTH GRADE MITZVAH CORPS
Mitzvah Corps empowers students to respond to important societal issues such as education inequality, senior-citizen care, diversity, hunger, homelessness and climate change. This year-long program is divided into seven units, each focused on a different issue. Each unit includes a learning, action and reflection session.
Learning and reflection sessions are held during Religious School hours, Sunday or Monday. (Students may choose to attend either day). Action sessions may meet outside of school hours.
EIGHTH GRADE TZEDEK LEAGUE
The Eighth Grade
Tzedek
League ("Pursuit of Justice") delves deeper into one issue. In addition to participating in direct volunteer work,
Tzedek
League students will discover other ways to pursue justice for their chosen cause, including organizing fundraisers, inviting friends to volunteer and lobbying local government officials on behalf of the issue
Tzedek League meets at least twice monthly, with one learning seminar and one volunteer session each month.
There also will be additional sessions in which students will teach Mitzvah Corps, host fundraisers and meet with government officials.
ROSH HODESH
For girls in the Seventh and Eighth grades, Rosh Hodesh is a "girls only" group that meets monthly to talk, munch, create and have fun. Rosh Hodesh meets one Sunday evening a month.
EIGHTH GRADE TRIP TO NEW ORLEANS
Eighth graders from Temple Emanu-El, Temple Israel and Temple Shaaray Tefila will travel together for this exciting and meaningful trip where we will help rebuild the city of New Orleans, hear from Jewish and non-Jewish residents about Hurricane Katrina, and experience the various cultures of New Orleans, including live jazz music and a voodoo tour.
TEEN PHILANTHROPIC COMMITTEE (8th–12th Grade)
How would you use $10,000 to help New York City? Temple Emanu-El's Teen Philanthropic Committee has been tasked with just that responsibility by Temple Emanu-El's Philanthropic Fund. Students interested in becoming part of the committee will come together monthly to participate in the grant-making process. They will select an issue affecting New Yorkers, create a mission statement and design a grant application to be used by nonprofit organizations seeking funds.
---
REGISTRATION INFORMATION
Complete the Religious School registration form (available in
PDF
format) and return it to the Department of Lifelong Learning. Participation is available only to students whose families are members of Congregation Emanu-El. The 2017-2018 program fee for Mitzvah Corps and
Tzedek
League is $1,450 ($50 discount when registration forms and full tuition payments are received by June 30, 2017). Note: There is an additional fee for the New Orleans trip, which covers costs for airfare, hotel, meals and activities.
QUESTIONS?
Contact our
Coordinator of Youth Learning and Engagement
.
Back to Religious School