---
Temple Emanu-El's Nursery School Summer Camp is open to children who are
2 years and 6 months by June. The program is tailored for young children who are not yet ready for a full day of camp.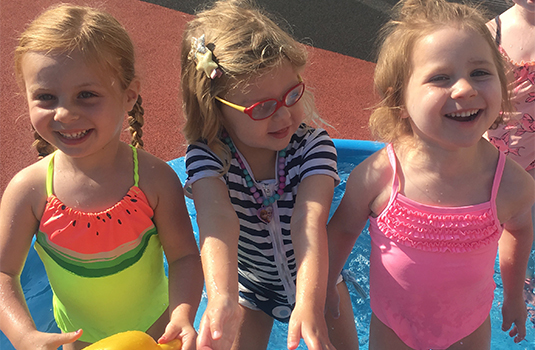 Temple Emanu-El Nursery School is pleased to offer the following Summer Camp Programs for 2019. Children must be at least 2 years, 6 months old by June 2019 to enroll in these programs.
For Summer 2019, we offer four camp options:
---
| | | |
| --- | --- | --- |
| I. June 10 – June 20 | 2 Weeks | $1,590 |
This program works well for older children who may be attending another camp beginning in late June. Younger children who choose this option will be placed with their peers.
---
| | | |
| --- | --- | --- |
| II. June 10 – June 27 | 3 Weeks | $2,100 |
For those who wish to enroll in camp until the end of June.
---
| | | |
| --- | --- | --- |
| III. July 1 – July 25 | 4 Weeks | $2,800 |
For those who may be away in June, we offer a four-week July option.
Your child will join an existing, age-appropriate group.
---
| | | |
| --- | --- | --- |
| IV. June 10 – July 25 | 7 Weeks | $4,700 |
Our seven-week program; children will be grouped by age with their peers.
---
The hours of each program are Monday - Thursday, 9:00 AM to 1:00 PM. Camp will be closed on July 4th. Please note that children in the youngest age groups will phase in for the first 1-2 weeks. As the children separate and become acclimated, the day will be extended.
In all groups, the transition to camp is particularly easy as they are led by our experienced Nursery School teachers. Our air-conditioned rooms provide a bright, welcoming environment for all campers. A typical day of Summer Camp includes playtime in our classrooms, arts and crafts, dramatic play, block building, LEGOs, and lots of outdoor play. The children will enjoy wading pools, bubble tables, and sprinklers on our rooftop playgrounds. Our music and yoga teachers come weekly to work with each group. Campers bring their own lunch from home.
If you wish to enroll your child in our SUMMER CAMP, please choose a program, print out, complete, and mail in the following forms to:
Temple Emanu-El Nursery School
1 East 65th Street
New York, New York 10065
Information Form
A signed contract which obligates full payment of tuition.
Full payment for the 2, 3, and 4-week programs.
First payment of $2,000 for the 7-week program – the balance is due June 1.
Checks should be made payable to Temple Emanu-El Nursery School.
If you have any questions regarding summer programs, please contact Susanne Fischer at
[email protected]
or 212-507-9531. Also note that space is limited, and enrollment is on a first come basis. You do not have to be enrolled in the Nursery School to attend Summer Camp so please feel free to share this information with your friends at other schools.
For more information, call
(212) 507-9531
or send an email to
[email protected]
.
Back to Nursery School