---
Community, Compassion, Commitment: More Powerful Together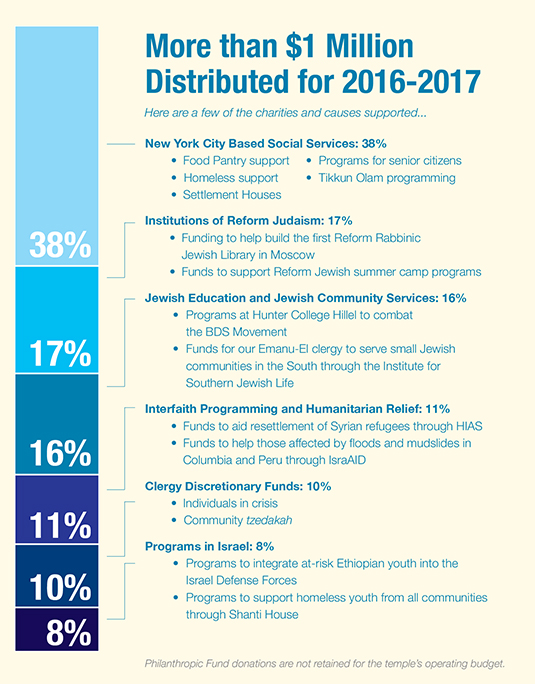 "Judaism demands our involvement in the messiness of the world....
Though the world may at times appear to be deaf to Torah's message of justice and compassion and peace, in this synagogue we shall proclaim it, and act upon it, and do what we believe must be done, to beat this broken world back into shape."
— Rabbi Joshua M. Davidson, Sermon, Rosh Hashanah 5777
At Temple Emanu-El, as much as we recognize the Days of Awe as a time for our congregants to look inward, a time to rejoice and reflect, we also recognize it as a time for action and initiative. We are blessed with a close-knit community, but we are also part of something larger than ourselves — global in scope, extending far beyond the bounds of our warm and majestic synagogue.
Your gift to the Philanthropic Fund is a commitment to assist our educational and humanitarian efforts within our city, around our nation and abroad. In 5777, Temple Emanu-El distributed more than $1 million in
tzedakah
to worthy charities and causes, including our recent and generous donation to the Jewish Federation of Houston for families affected by Hurricane Harvey's floodwaters.
We sincerely hope you will consider giving to the Philanthropic Fund for 5778.
Contributions may be made at any time during the year through the following methods:
• Online through our secure
credit card form
• By phone or fax with your credit card
• By mail or in person with your check
If you prefer to make your credit card donation over the phone, then please call Development Associate Gila Drazen at (212) 507-9525. You also may
download a form
for completion and fax it with your credit card information to (212) 570-0826. Or, send the completed form by mail, with your check, to: Office of Development and Philanthropy, Congregation Emanu-El of the City of New York, One East 65th Street, New York, NY 10065.
QUESTIONS?
Send an email to
[email protected]
.
Back to Donations