---
Registration now is open for our next family trip to Israel, which will be led by Rabbi Joshua Davidson and Lifelong Learning Director Saul Kaiserman.
We are going to Israel to celebrate Israel's 70th birthday!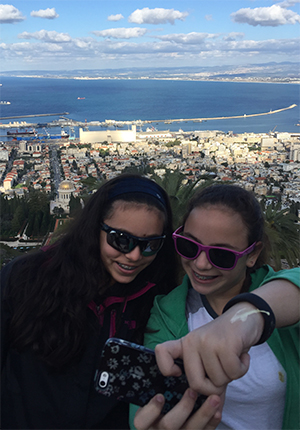 December 22, 2018
through January 1, 2019
As you would expect, we'll be swimming in the Dead Sea, hiking up Masada, eating a falafel in Tel Aviv and praying at the Western Wall in Jerusalem. But on an Emanu-El family trip, you'll do so much more, including:
Celebrating Shabbat dinner in the homes of Israeli Reform Jewish families like our own



Meeting with active duty IDF soldiers serving near the Egyptian border



Picking oranges left by the farmers on the trees, to be distributed to needy Israelis



Going jeep riding and rappelling
in the Ramon Crater
There are special activities for family members of every age: For teens, highlights are a tour of Tel Aviv graffiti art and cycling on Jerusalem's answer to the High Line; for adults, wine tasting and a date-night in Jerusalem; and for kids (and everyone who is young at heart), a crawl through the Meresha Cave labyrinth and a trip to the world-class Jerusalem Biblical Zoo.
Israel is also the ideal place for a child to become
a bar or bat mitzvah, in a worship service led by Rabbi Davidson.
For more information, contact Saul Kaiserman at
[email protected]
or
(212) 507-9528
.
We look forward traveling with you!
View our itinerary and pricing »
Register here »
Back to Community