---
Rabbi David M. Posner and Women of Reform Judaism, the women's affiliate of the North American Reform Movement, received the World Union for Progressive Judaism's highest honor — the International Humanitarian Award — at a black-tie gala dinner on Sunday, September 14, 2008, at the exclusive Mandarin Oriental in New York City.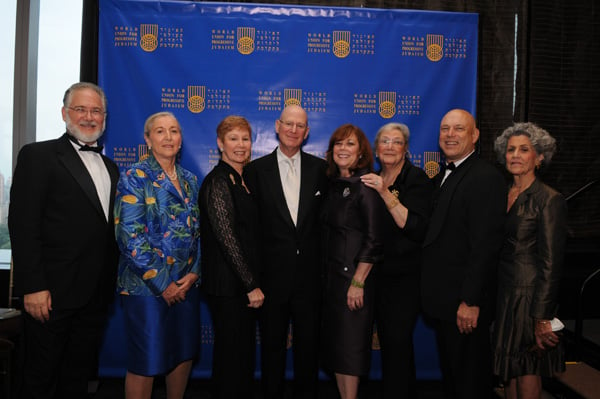 From left: Rabbi Uri Regev, president, World Union for Progressive Judaism; Nani Beutel, dinner co-chair; Rosanne Selfon, president, Women of Reform Judaism; Rabbi David Posner; Shelley Lindauer, executive director, WRJ; Lois Zeidler, dinner co-chair; Steven Bauman, chairman, World Union; Audrey Morris, dinner co-chair.
Rabbi Posner has been
with Congregation Emanu-El, New York City's preeminent synagogue, since his ordination from Hebrew Union College (Cincinnati) in 1973 and its senior rabbi since 2002. A caring, visionary and inspiring leader, as well as an ardent supporter of worldwide Reform Judaism, Rabbi Posner has been a long-time proponent of future rabbinic leadership for the movement, which is critical to the World Union's mission of building new and renascent Reform communities worldwide and advancing social justice and equal rights as a Jewish imperative.
In accepting this award, Rabbi Posner led his congregation in the creation of a history-making endowment for Israel's Reform rabbis who, unlike Orthodox rabbis there, are not funded by the government.
Women of Reform Judaism (WRJ) has partnered with the World Union from the very beginning, to strengthen Jewish life worldwide by helping to establish and support modern, pluralistic congregations and institutions, develop Jewish community and youth leadership and advocate social justice. Their YES Fund donations subsidize rabbinic students who go on to serve congregations in the former Soviet Union, Germany, England and Israel. They support bat mitzvah programs for teens in Israel as well as the WRJ Music Library at Abraham Geiger College in Germany and Jewish early childhood curricula in Russia. Their partnership with the World Union has demonstrated exemplary generosity and devotion to the present and the future of Klal Yisrael.
Rabbi Posner received his award in a presentation by the president of Hebrew Union College-Jewish Institute of Religion, Rabbi David Ellenson. Rabbi Eric Yoffie, president of the Union of Reform Judaism, presented WRJ's award to Rosanne Selfon, president, and Shelley Lindauer, executive director, on behalf of all North American Reform sisterhoods. The keynote address of the evening was delivered by Rabbi David Saperstein, director of the Religious Action Center of Reform Judaism, whose warm and personal tribute to the honorees and the World Union itself moved the audience of more than 400 people.
The proceeds of the benefit dinner — more than $450,000 — will help the World Union continue building Reform congregations worldwide, developing rabbinic, professional and lay leadership, nurturing its international Zionist youth movement — Netzer Olami — and offering educational and programmatic guidance for social action and spiritual initiatives.
---
The World Union For Progressive Judaism, founded in London in 1926, is the international umbrella organization of the Reform, Liberal, Progressive and Reconstructionist movements, serving 1,200 congregations with 1.7 million members in more than 40 countries. The World Union strengthens Jewish life in Israel and worldwide by establishing and supporting modern, pluralistic congregations and institutions, developing Jewish communal and youth leadership and advancing social justice. Its headquarters are in Jerusalem, with an office in New York City.
Back to Photo Albums
Click on the thumbnails below
to view and print larger versions of the photos.
| | | | |
| --- | --- | --- | --- |
| Dinner honorees and presenters | Rabbi Uri Regev, Sylvia Posner, Rabbi Posner, Rabbi Ellenson | Rabbi Uri Regev, Rabbi Posner, Rabbi Ellenson (president HUC-JIR) | The Posner family |