---
More than 800 young professionals attended the inaugural "Dusk," held at
Temple Emanu-El on February 18, 2016, a meditation and dance experience aimed at being more spiritual through faith, pluralistic prayer and music.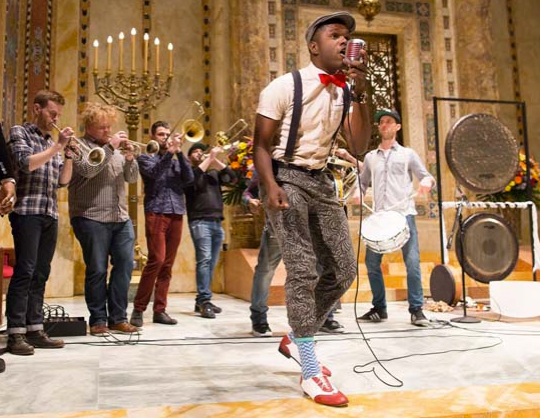 (Photo by Andrew Rauner)
"Dusk" was a joint effort of Temple Emanu-El, the Charles and Lynn Schusterman Family Foundation, and Daybreaker, which hosts early morning, before-work dance parties every six weeks that always feature a spiritual experience. This was Daybreaker's first evening event.
The evening began with a 20-minute meditation session and also included a gospel choir singing hymns from the Book of Psalms, a brass band and a beat-boxer/violinist duo. Building on the "Prohibition" theme of no alcohol, many of the revelers were dressed as 1920s flappers and gangsters. The evening concluded with a three-hour dance party and refreshments of fresh-pressed juices, sugar-free sodas and healthful food.
"There's a natural synergy between our work," said Rabbi Allison Tick Brill in an interview with
NY Blueprint
. "Daybreaker offers spirituality and community in a nomadic setting. The synagogue offers spirituality and community in a rooted setting — a place to belong and feel at home. The fact that 750 people came to a synagogue and had an affirming, uplifting experience is an unbelievably powerful thing."
"I'm a member of Daybreaker, and I'm a proud member of this congregation, and when I introduced the two groups, we realized that we are coming together with the same objectives: It's about recognizing the power of groups, of collective thought, of positive thinking, of pluralistic prayer," said Daniel Bloch Jeydel, adviser to the Schusterman Family Foundation and active committee member at Temple Emanu-El, in
The Jerusalem Post
.
Click on the thumbnails below to view larger versions of the photos.
(View additional photos here »)
Back to Photo Albums