---
In October 2015, Temple Emanu-El high school students and other volunteers organized by the Tikkun Olam Committee spent an afternoon working at the M'Finda Kalunga ("Love Your City") Community Garden on the Lower East Side.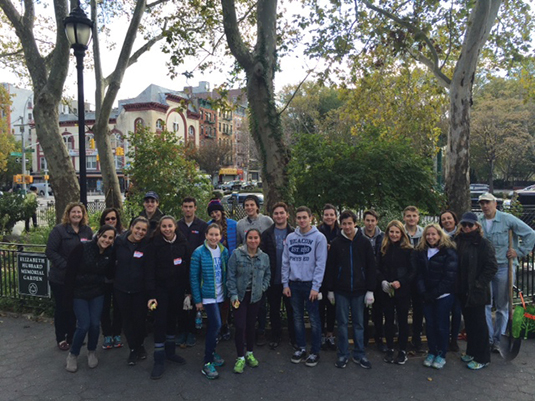 Together our volunteers built
planter boxes and transferred plants into the boxes; raked, mulched and weeded; planted bulbs; and laid gravel for a new path. Supplies for upgrading the garden were funded by a $5,000 donation made by Temple Emanu-El's Philanthropic Committee through
Citizens Committee for New York City
, one of the nation's oldest micro-funding organizations.
M'Finda Kalunga
was created in 1982 in an effort to rid the Sara Roosevelt Park area of drugs and crime. Today, the garden serves as both a restful area and as a source of food for low-income seniors and children.
Back to Photo Albums
Click on the thumbnails to view larger versions of the photos.