---
On Sunday, November 16, 2014, the long-awaited biblical mock trial sponsored by the Temple Emanu-El Skirball Center was a rousing success, with more than 1,500 people fulfilling their civic duty as jury members for the day. A line winding down the street and around the corner began as early as 8 AM, with eager ticket holders arriving from all over the great New York City area.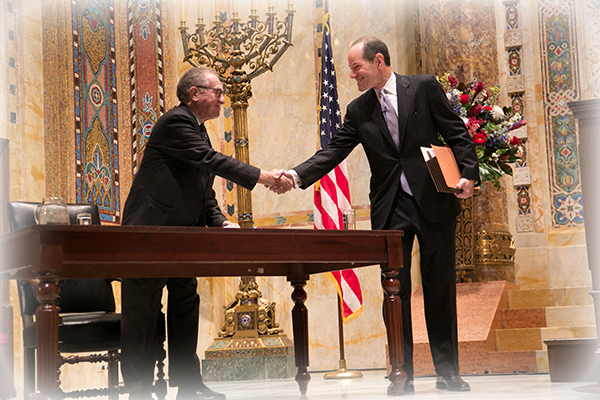 Case No. 5775 was set in motion
by
Alan Dershowitz
and
Eliot Spitzer
,
who argued
The People vs. Abraham
before
U.S. District Judge Alison Nathan
. The two well-known attorneys and personal friends spared little time on pleasantries and matched legal wits to present their cases. But, after a thought-provoking legal debate and fair judicial process, Mr. Dershowitz managed to closely defeat Mr. Spitzer in favor of Abraham's innocence based on the audience's jury ballots.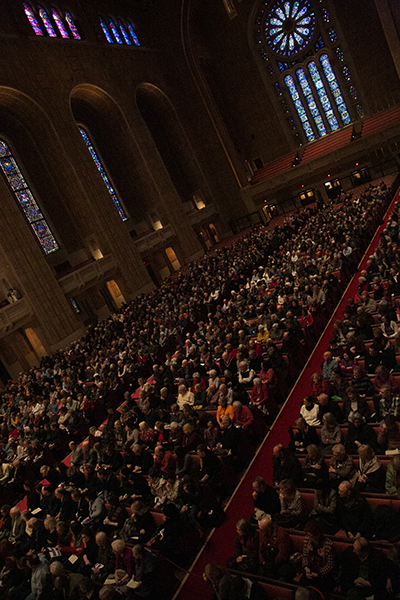 Click image to enlarge
Watching the two brilliant legal minds engage in modern biblical debate, while surrounded by an enthusiastic and diverse group of their peers, made for an innovative experience that reminds us of the eternal and universal relevance of Torah.
The event was covered by
The New York Times, The Wall Street Journal, The Forward
and the
New York Post
. Read more about it here:
At Educational Event, a Modern Legal Interpretation of a Biblical Story
Abraham Goes 'On Trial' for Attempted Murder
Eliot Spitzer Loses Case
in Mock Trial Over Biblical Figures
Bible's Abraham to Be Tried in New York
Back to Photo Albums
Click on the thumbnails to view larger versions of the photos.