---
In 2012 and 2013, we honored and celebrated Dr. David M. Posner, who
retired on May 31, 2013, after 40 years of devoted service to the congregation.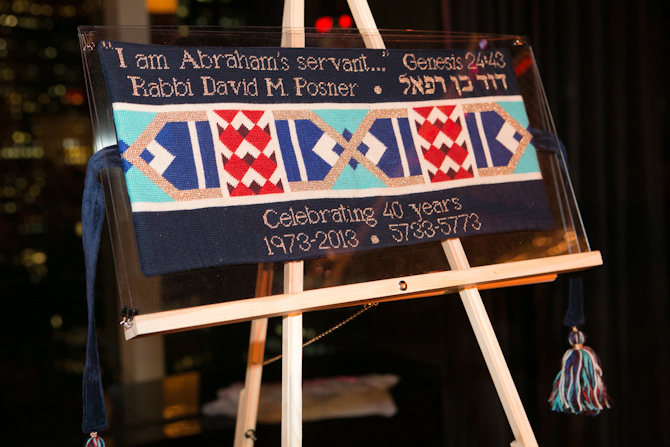 ---
It is written
in our ancient texts:
"Provide for thyself a teacher and get thee a companion. The disciples of old recognized two essential personalities who support the Jewish endeavor: haRav — the teacher, the rabbi — and the Chaver — the companion, the friend."
Read the full invocation
by Rabbi Amy Ehrlich »
---
During these four decades,
Rabbi Posner has taught us, led us in worship, celebrated with us at our life-cycle events and comforted us as we mourned — always with compassion, kindness and generosity of spirit. He has been committed steadfastly to helping his congregants live meaningful Jewish lives. On April 17, 2013, at a cocktail reception in his honor at New York City's
Mandarin Oriental
, we had an opportunity to express our personal appreciation to Rabbi Posner and wish him well.
In addition to a lavish buffet and a spectacular view, the evening included a photo montage of Rabbi Posner through the years, accompanied by Elena Nisonoff on the violin, and presentation of a personalized Torah wimple that was hand-stitched by members of the congregation.
Back to Photo Albums
Click on the thumbnails to view larger versions of the photos.
(Photos by Will Star, Shooting Stars Pro)